Another post with another tricky to think up title. The humble spag bol is a thing of beauty *sighs* I'd guess it's one of the first dishes you learn to cook? With it's mix of veg / meat / carbs it'll keep you going through your first years away from home.
The version I'm making today is with sausage meat. In this case it's actually a few sausages I'm going to skin. You can also just go ask your butcher for sausage meat and get it that way. However it's always handy to have a few sausages in the fridge for a rainy day. Get some nice herb or onion sausages if you can. Onto the ingredients …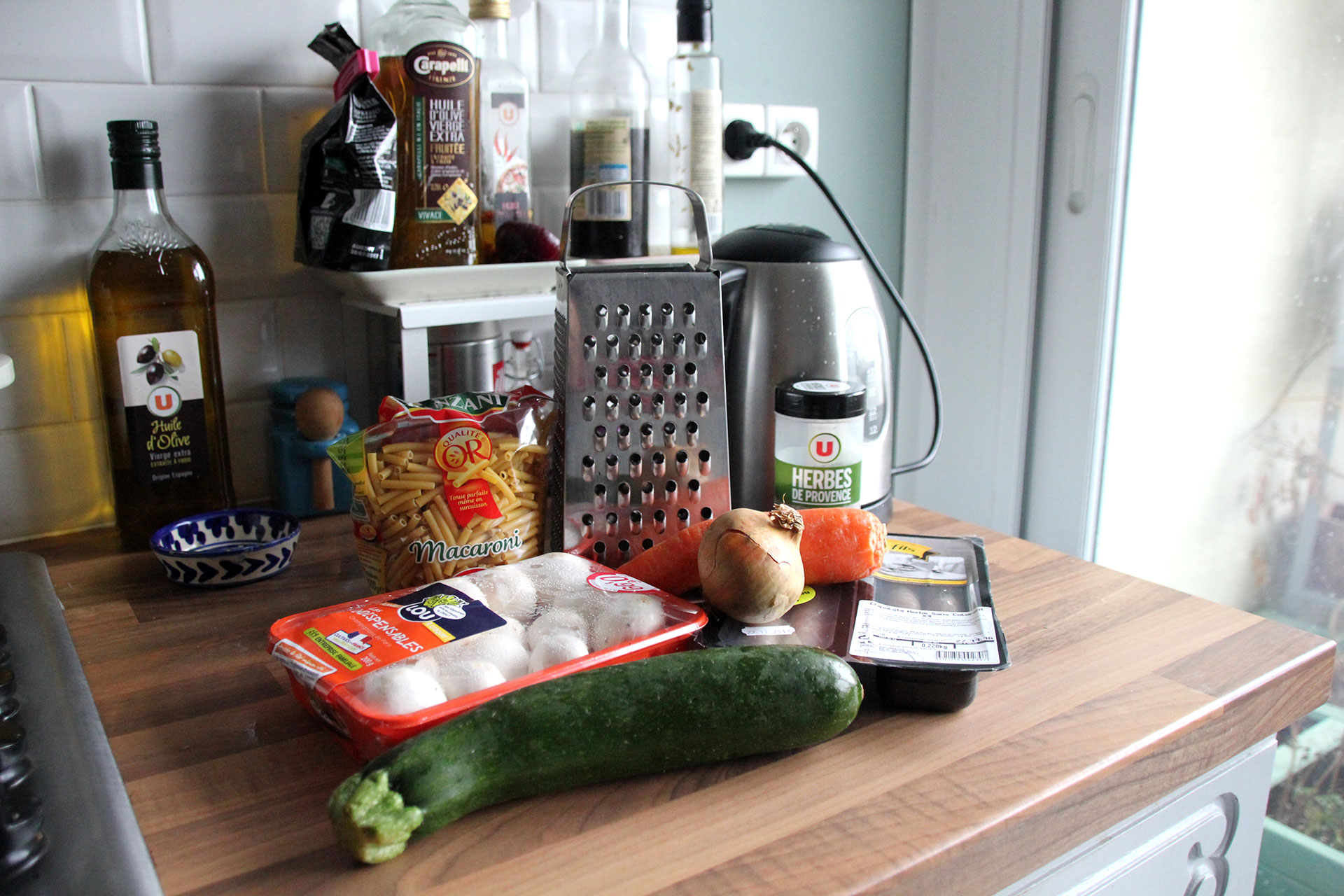 I'm using some local sausages that you can pick up in the supermarket with herbs. It's in a handy dual sided pack and I'm going to opt to just use the 2 sausages. I don't want to make a huge quantity and we're going to bulk up on veg. This is going to feed the 4 of us. 2 Adults / 2 kids. This meal is going to take around 20 – minutes to make.
Getting started we'll chop up an onion rather finely and get it frying away for 5 minutes.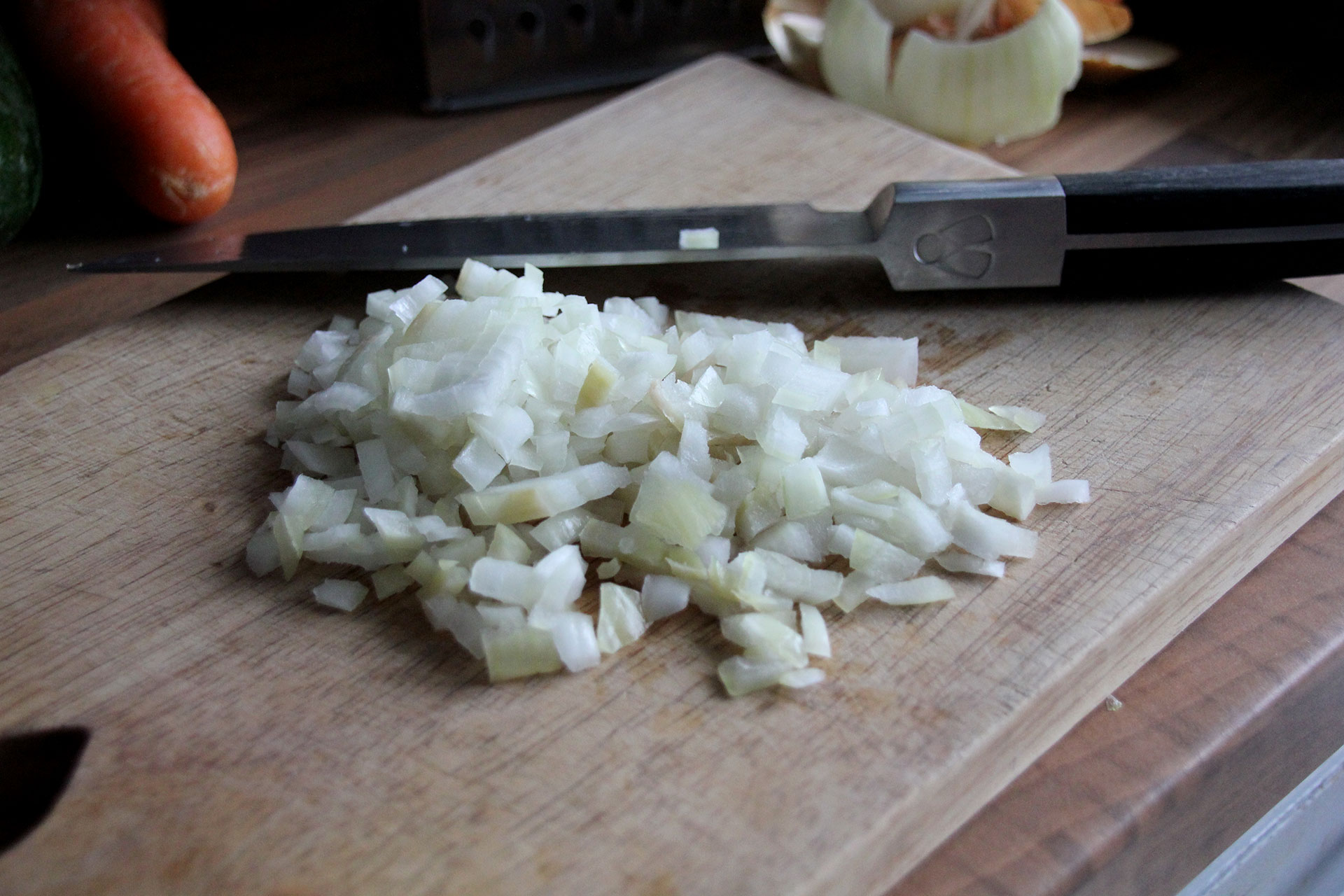 With your onion frying away lets get started on the sausages. If you've got some sausage meat straight from the butchers that's great. I'm only going to be using about 100grammes here.  ( 2 Sausages )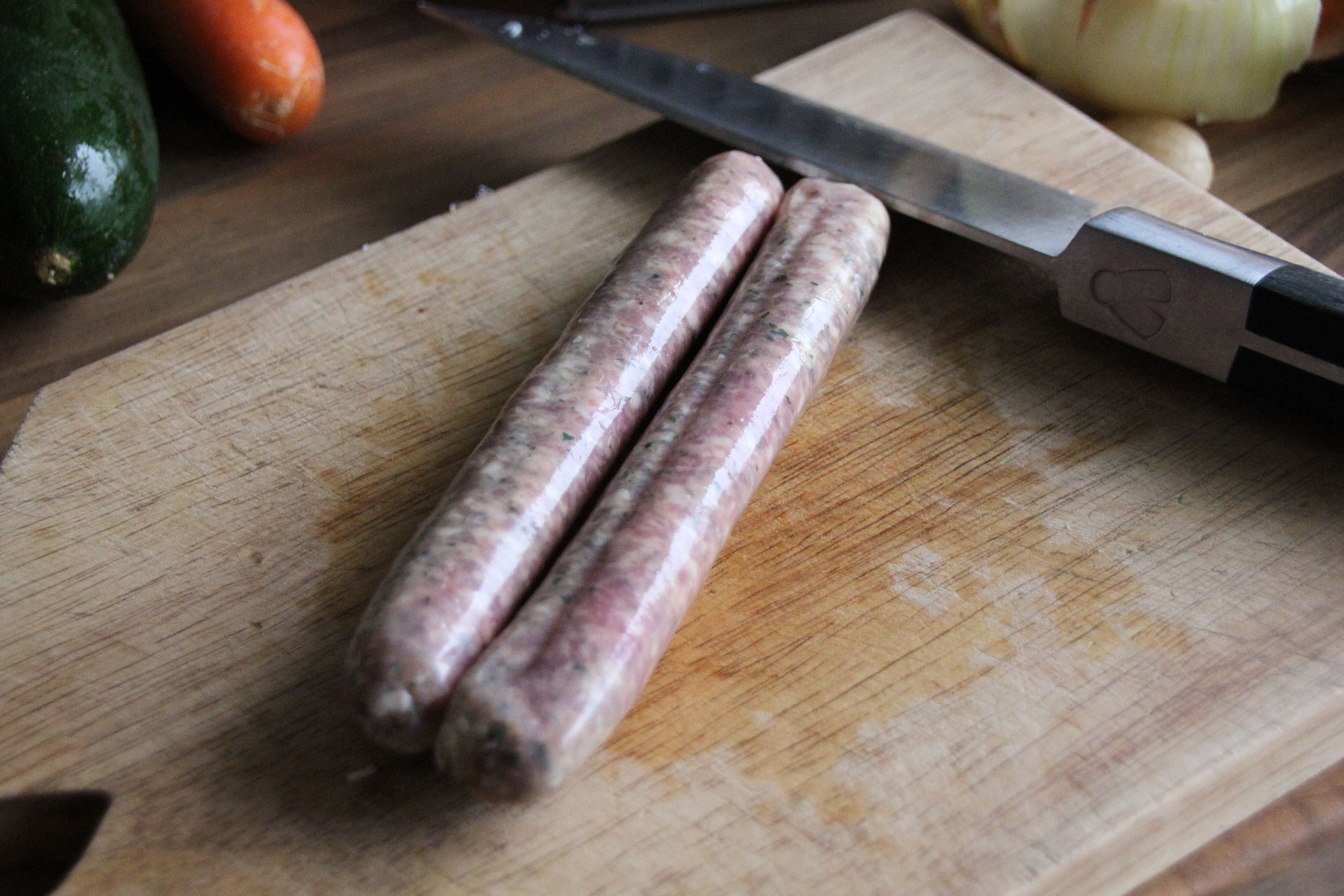 Make a lengthwise slit on your sausages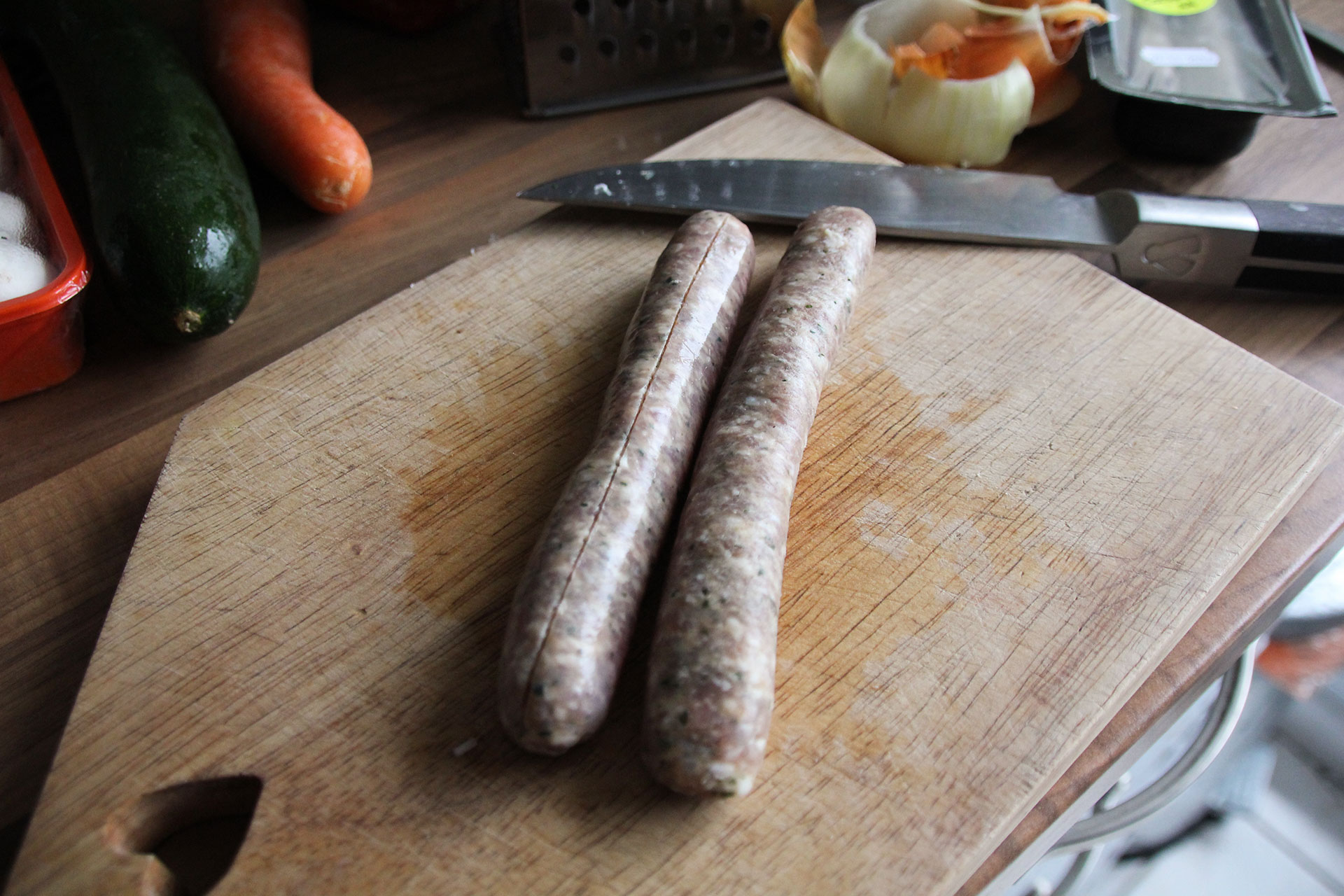 You're going to be touching the sausage meat here. Try to pinch where you've just slit to grab the skin of the sausage and start to pull it off.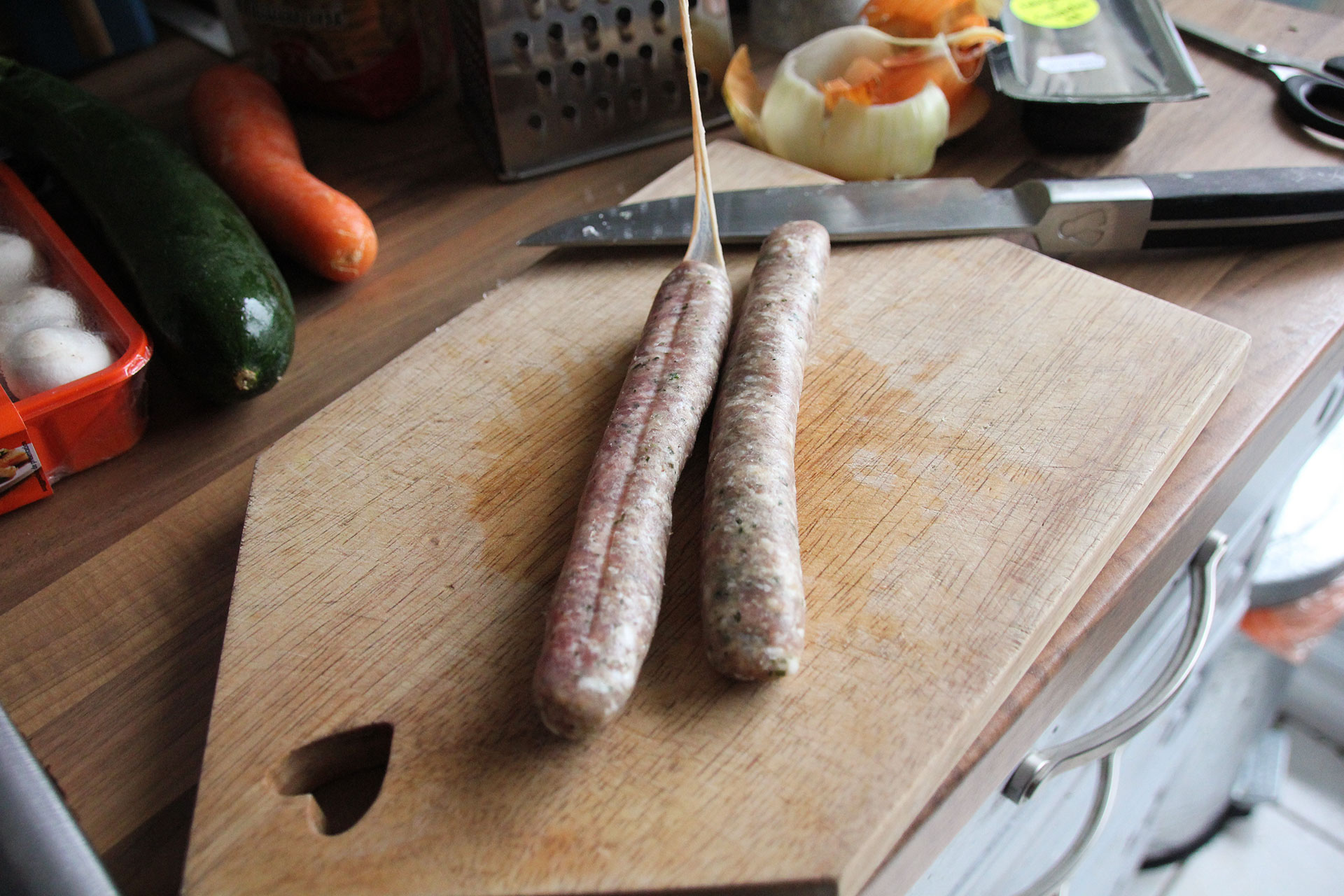 Once that's done chop your sausage up into small chunks.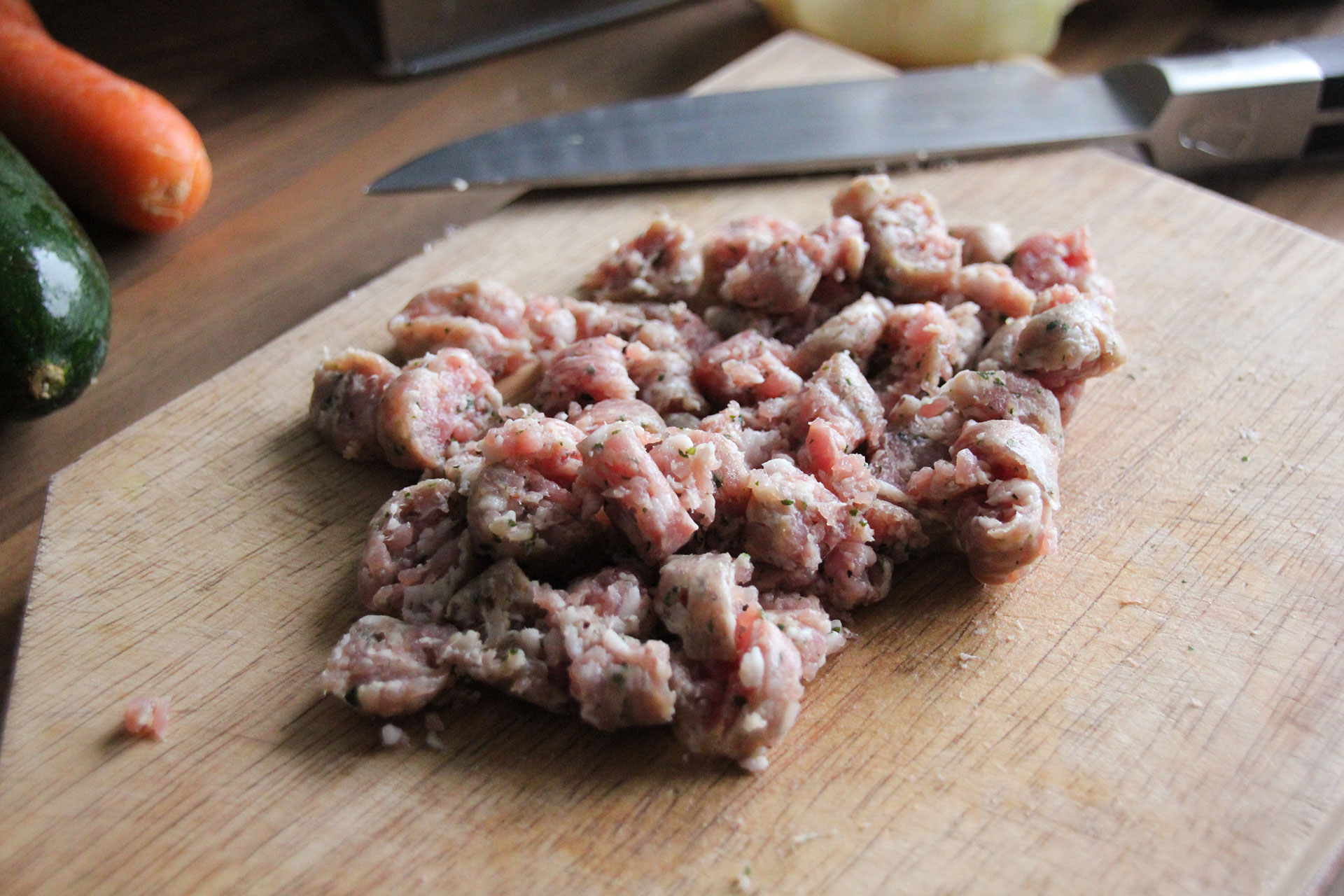 Throw it onto the frying pan as soon as you're done. You'll still be browning your onion and now this. If you think the sausage bits are too big? break them up with your spoon. A little goes a long way here 🙂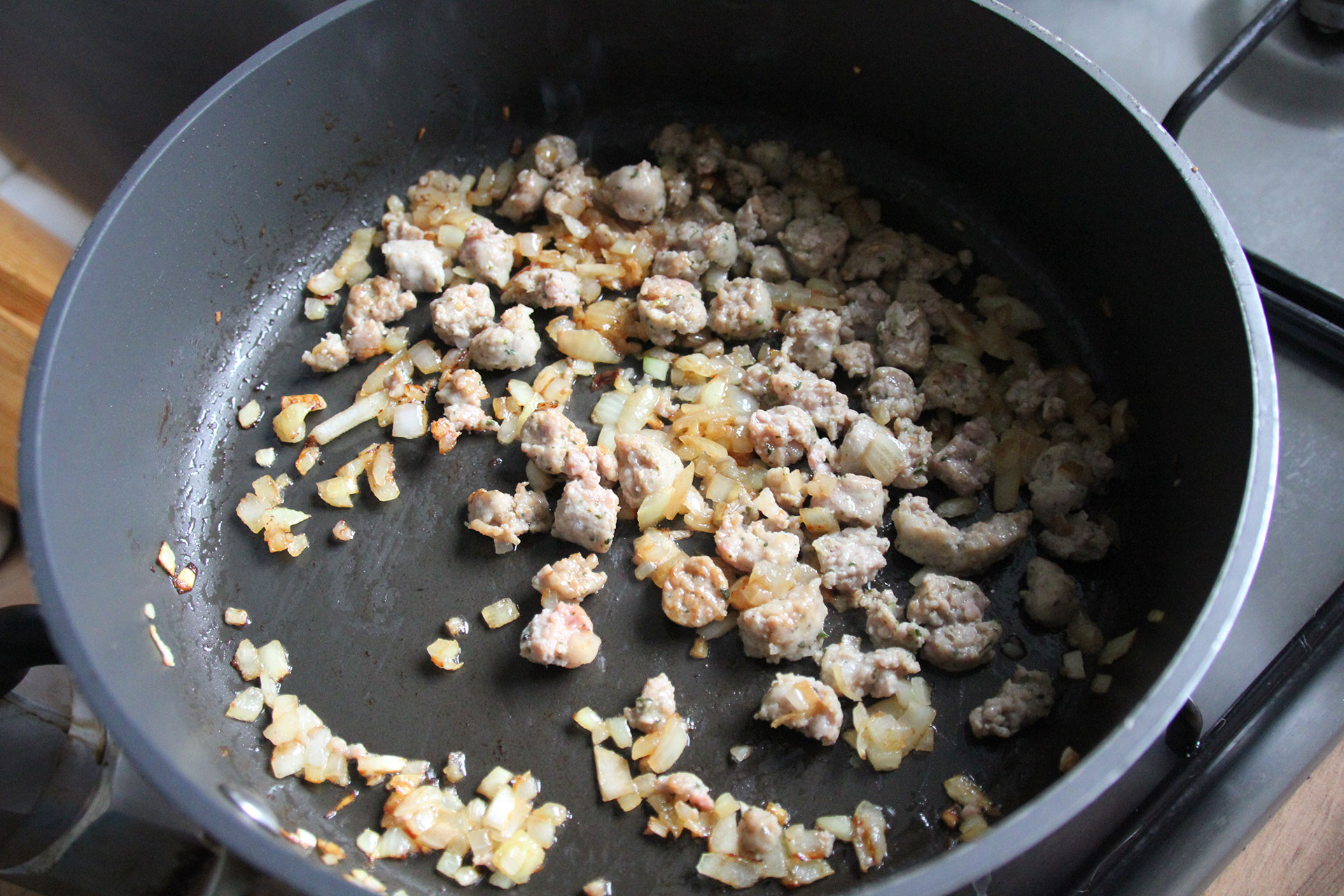 In the mean time grate your veg. In the end I'm only using half the courgette and the full carrot. You could quite easily do this in a machine. I opt to simply use the hand grater.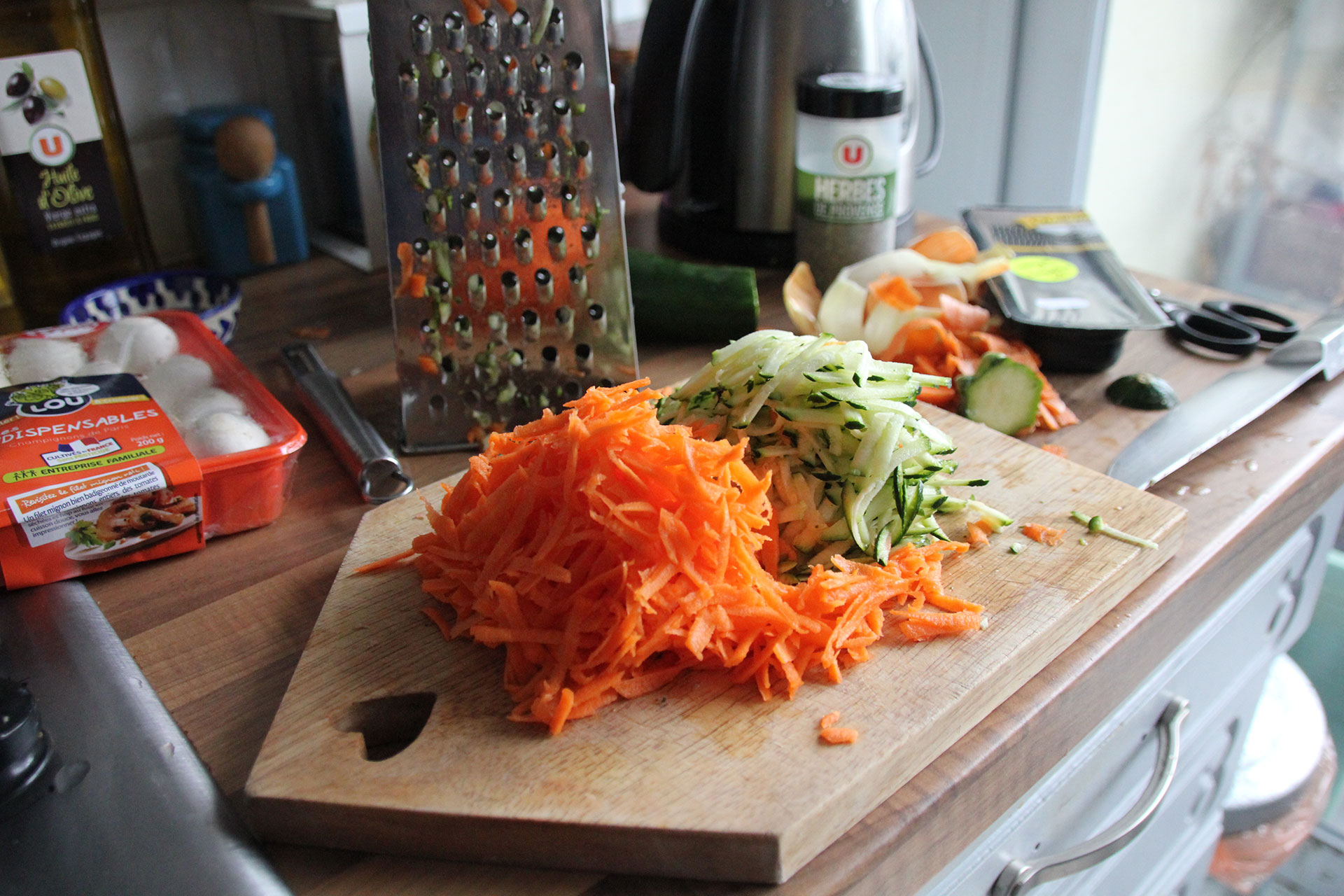 Another optional step here … throw in a splash of wine (as we've a bottle left over from Thursday night I'm not going opening up anything new just for this)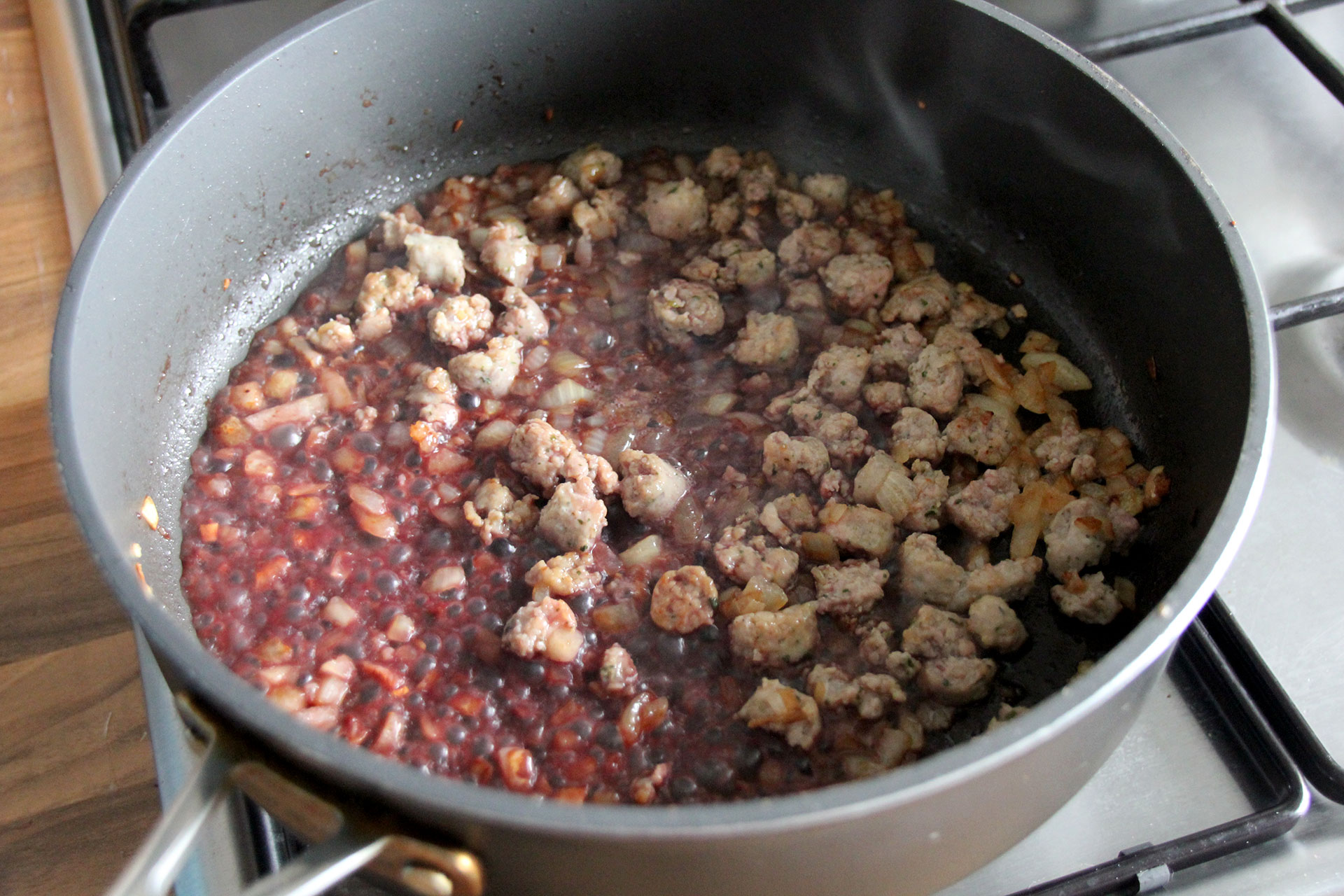 Now would be a good time to get some pasta started. You've already boiled the kettle right? 🙂
Grate a handful of mushrooms.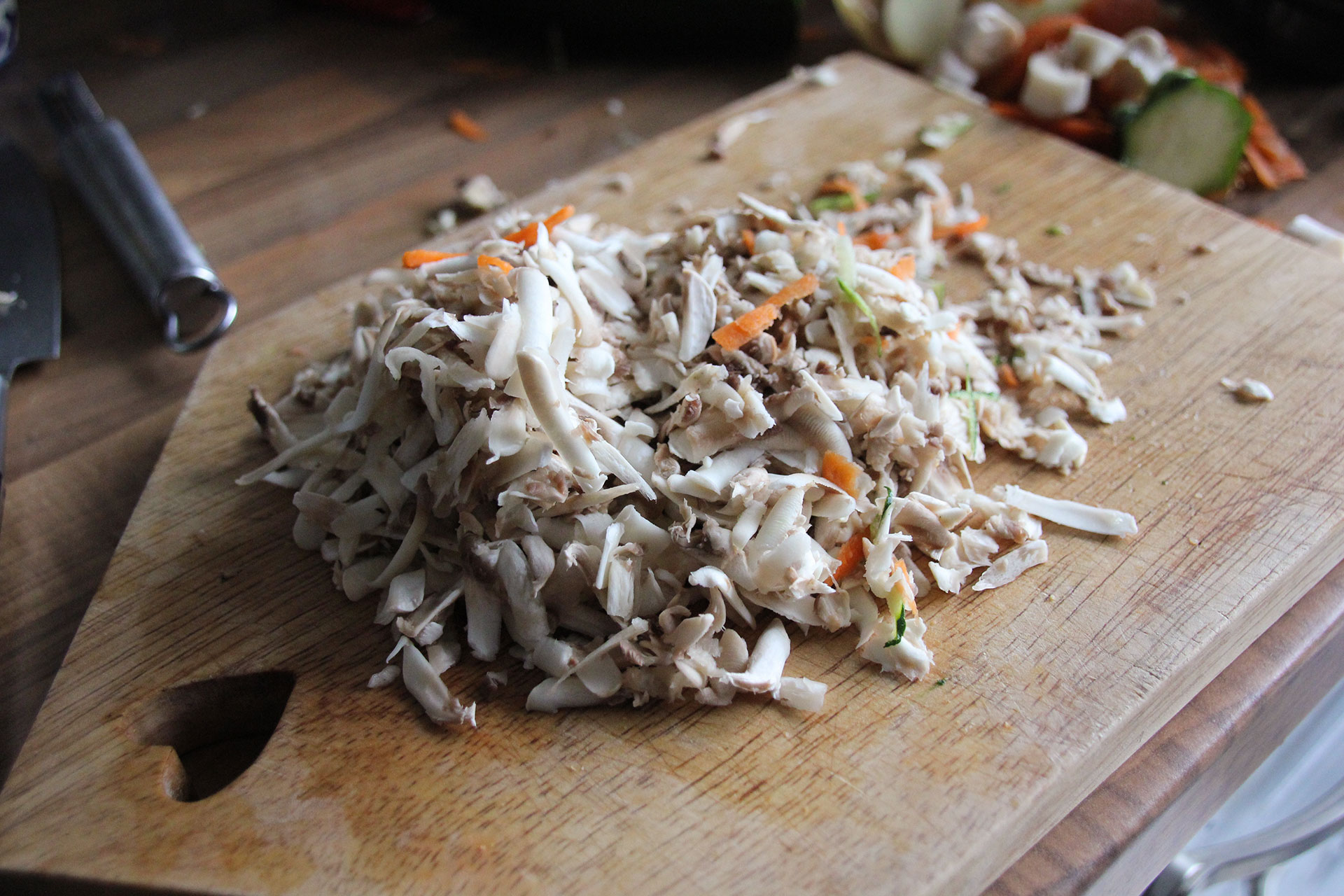 Throw them all into the pan for a minute or two .. putting the lid on helps cooking / gets the liquid out of the courgette as well.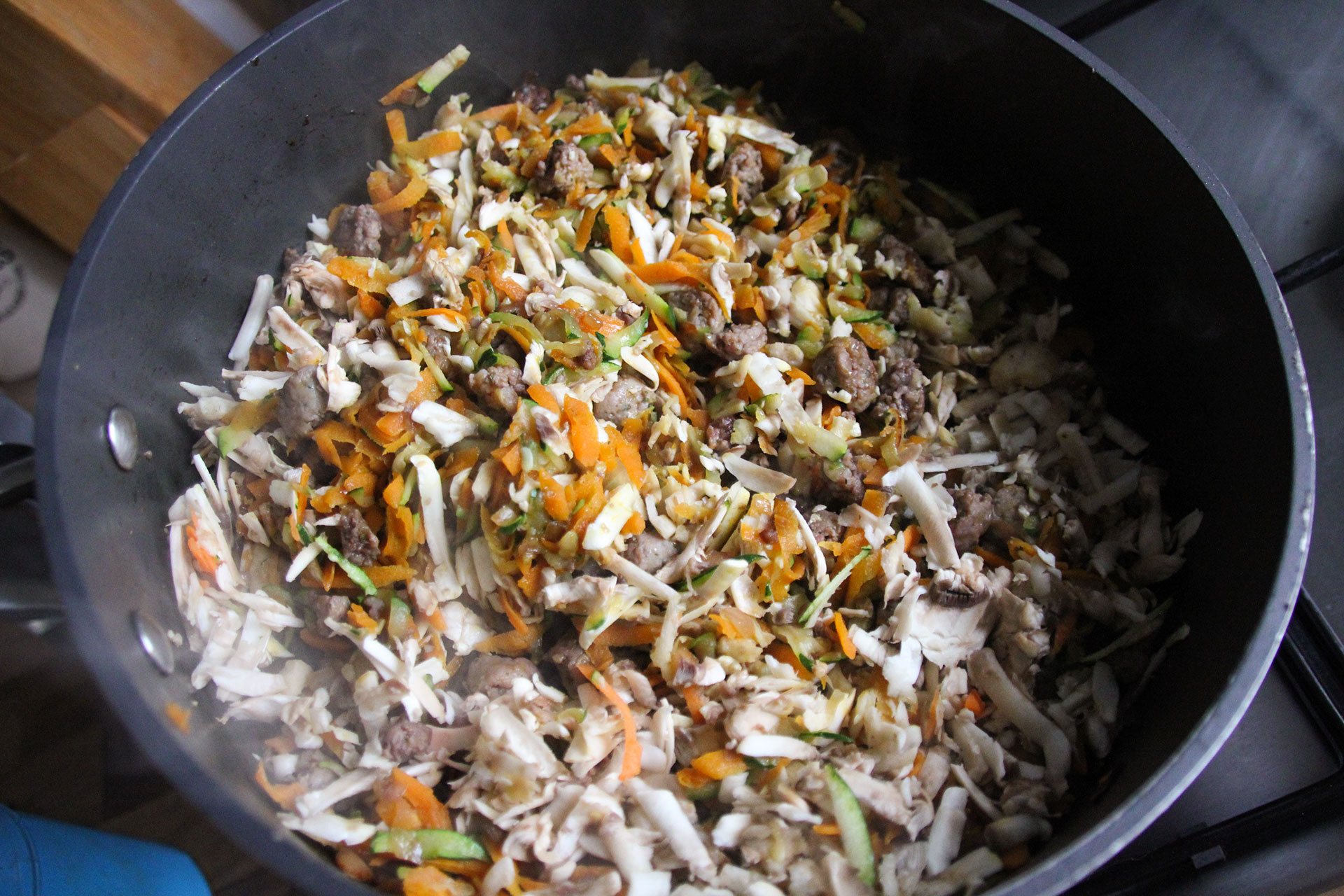 Now's a good time to remember we didn't include any tomato sauce in our ingredients photo. Throw a 200ml carton of sauce in (plain / with herbs) It's up to you. It doesn't sound like much but it's enough for this dish. Also add a good teaspoon or two of herbs. I'm using dried mixed herbs here. You can use fresh if you've got them.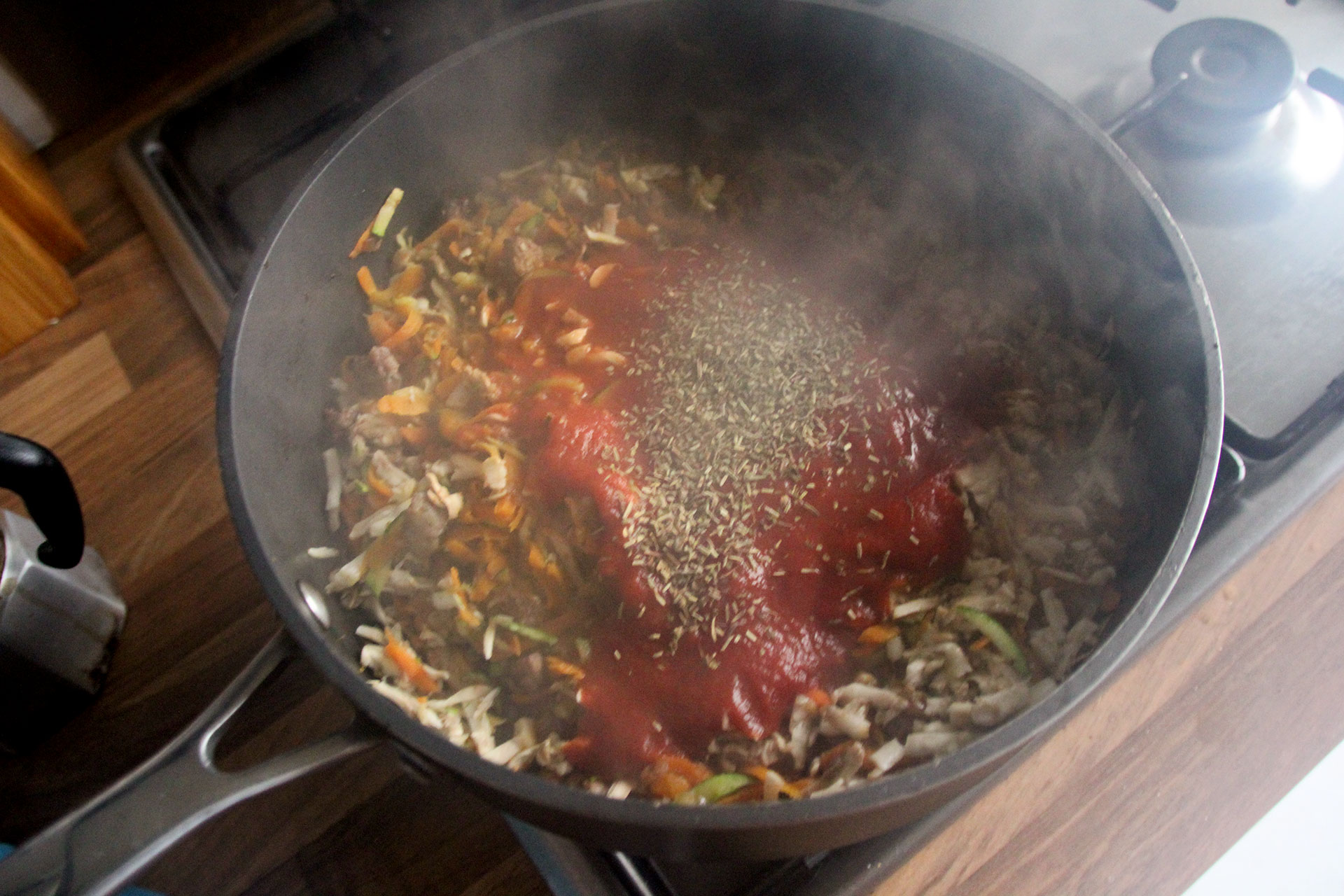 Your sauce is starting to come together. Add a pinch of salt and throw the lid on for a bit to help cook the carrots.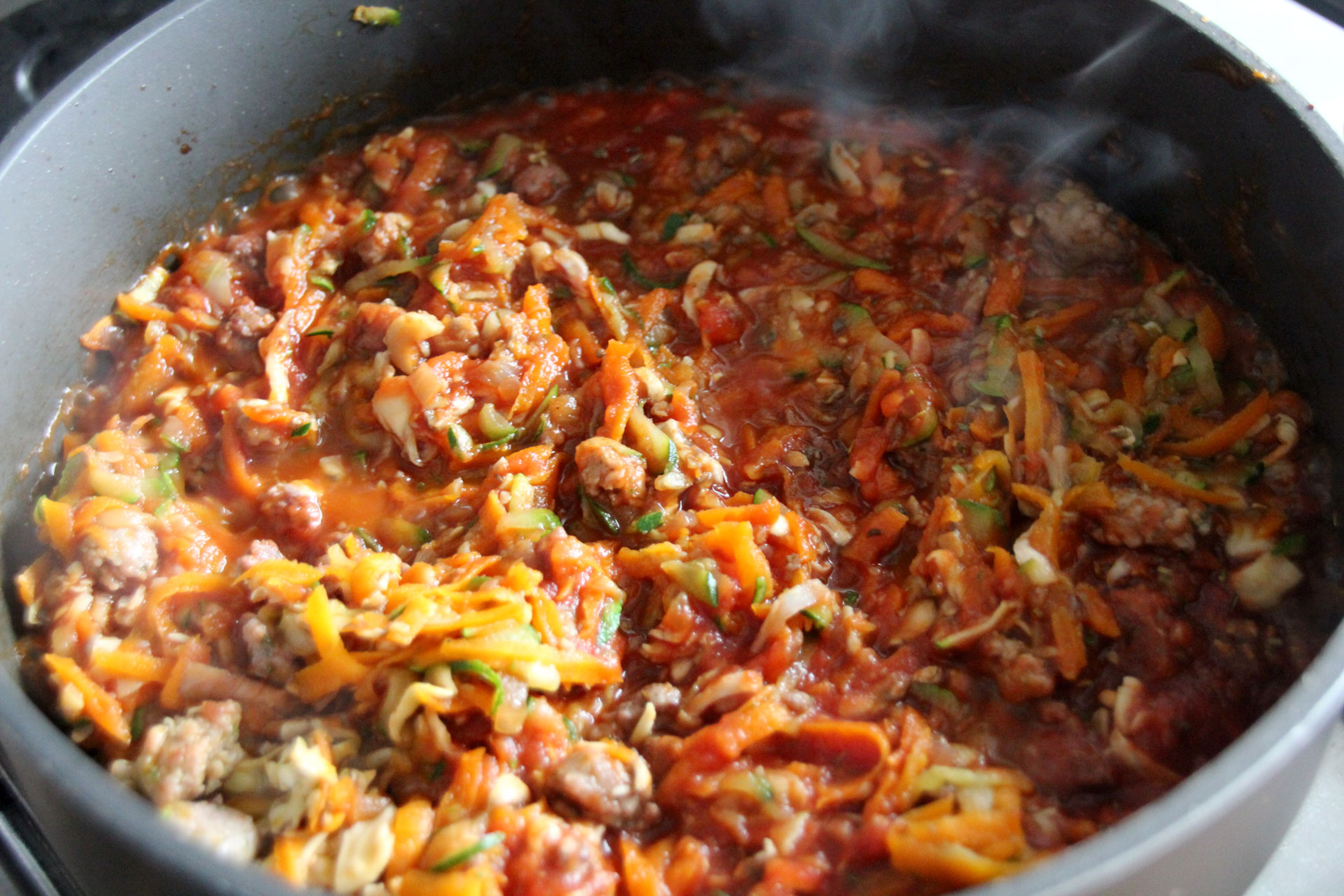 This is another optional step to make a lovely bread topping.
Grab a slice of bread or two / or a chunk of baguette. Place in a clove of garlic peeled ( remove the core if you want less kick ). A sprinkle of herbs ( Mixed herb in my case as well as a good dash of frozen basil)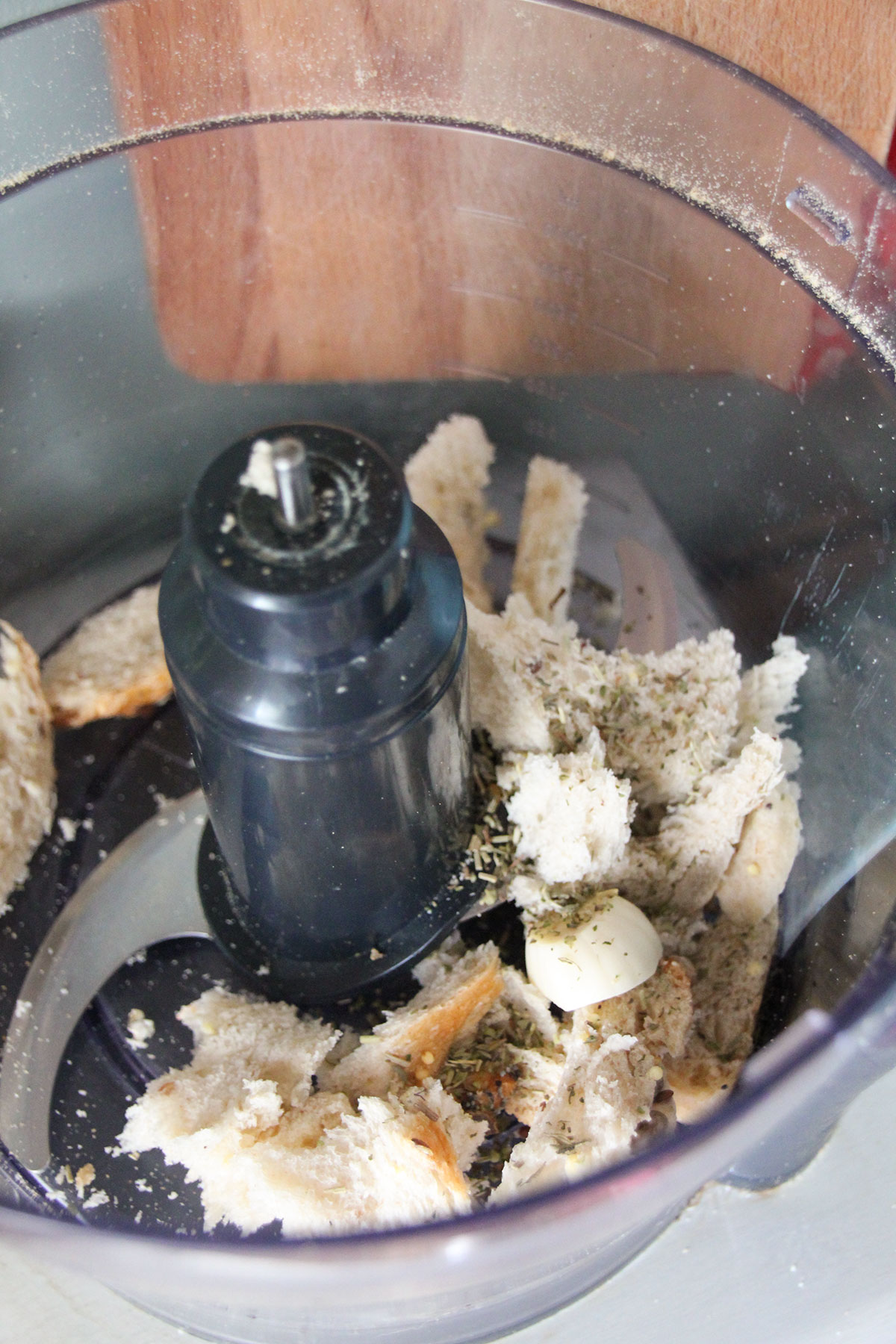 Give it a good blend! (If I'd time I'd throw it on a baking tray in the oven for a few minutes to crunch up and dry out even more.)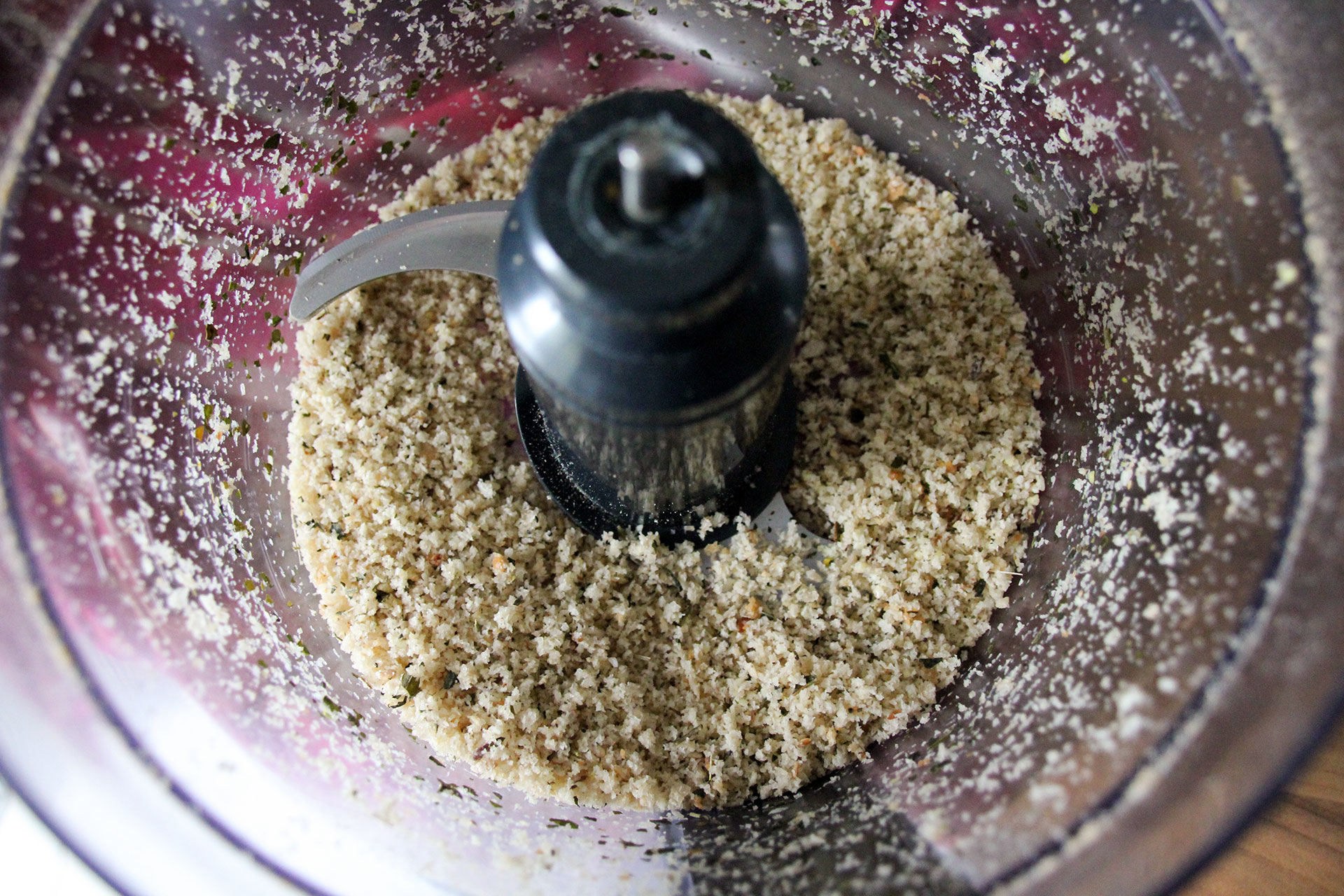 Your sauce should be done and thickened up a little bit as well as your pasta?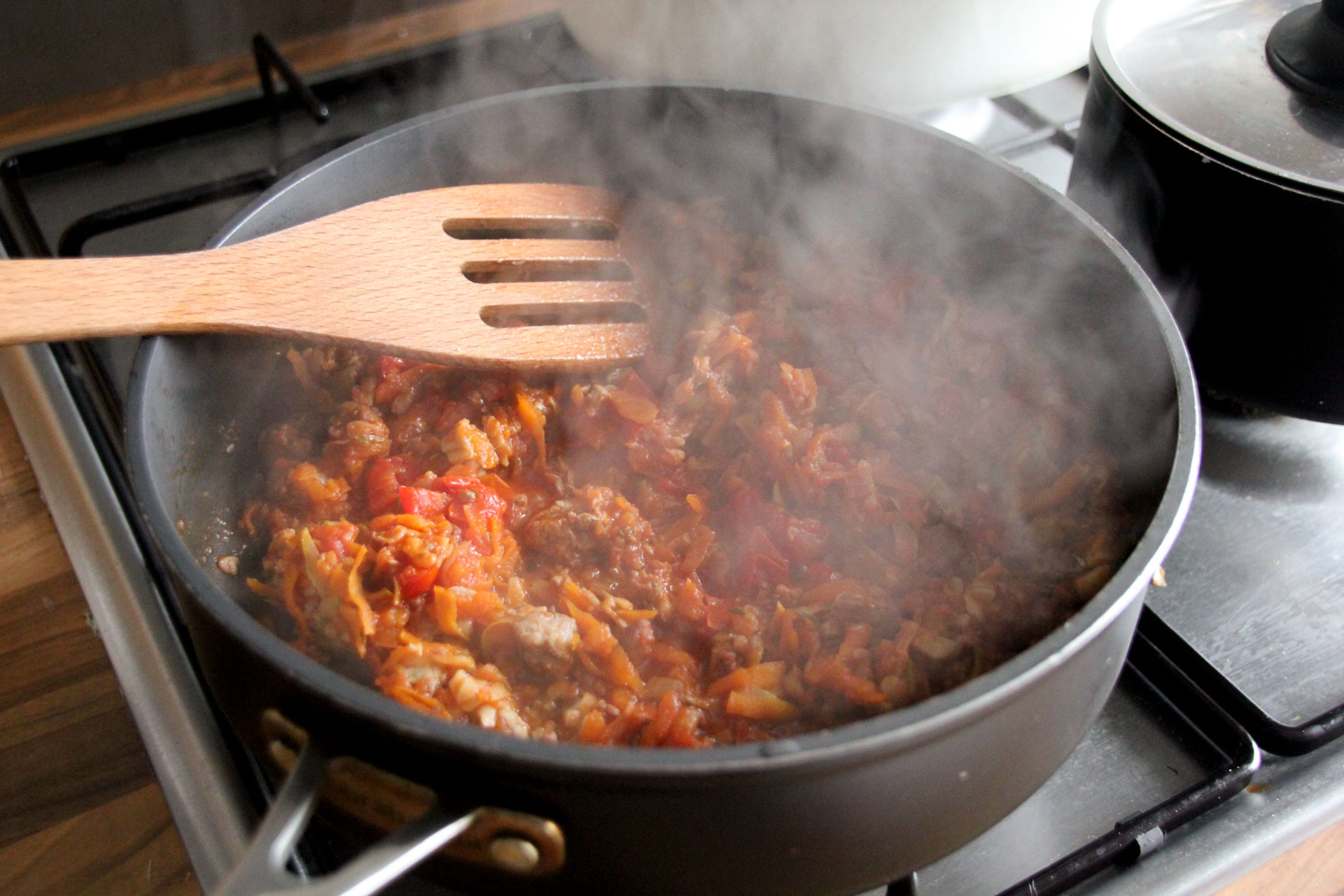 Serve it all up. Add a sprinkle of parmesan / pepper and some of your breadcrumb herb mix. Let people add this themselves as with the garlic it can have quite a kick. (Think Garlic bread without the butter)