Breakfast the most important meal of the day they say? Yet half the time we end up saying **** **** **** I'm late!!!
Maybe that's just me though? (and the screaming at the kids to hurry up). A breakfast roll is so handy on your way to work right? WRONG they don't exist in FRANCE!!!!
Scrambled eggs though is a great start to the day if you have a big morning ahead. It really stops you feeling hungry. Today for lunch it's cake day in the office (not mine but 4 birthdays around the same time so celebrating all at the same time) so I don't want to bring a lunch but I also don't want to be too hungry.
Now after last night's meal if you've followed my adventures? you might have been saying … you cheap bastard not using the full pack of bacon in the Chicken and Broccoli Pasta Bake there's kind of a reason for that though, that reason is bacon is tasty and well I don't want a lot, lets face it it's not exactly a healthy food with all the salt in it.
So you know the drill with this one though. Eggs + milk + pot = scrambled eggs right?
You could use normal bread, I often use bagels from a pack that last for ages (up to a month and are so handy to have in the bread bin), or in this case I'm using a muffin that needs to get used as it has been open a few days. I'm also taking some of my left over bacon … a splash of milk and some grated cheese.
The whole thing takes about 5 minutes to make plus an extra minute or two under the grill so lets dive in.
Get your pan on for the bacon on a low heat. Crack you egg(s) into a cup. I'm only using one here as that's all that's left over. To that you'll add a splash of milk. Beat it with a fork and add some pepper if you'd like.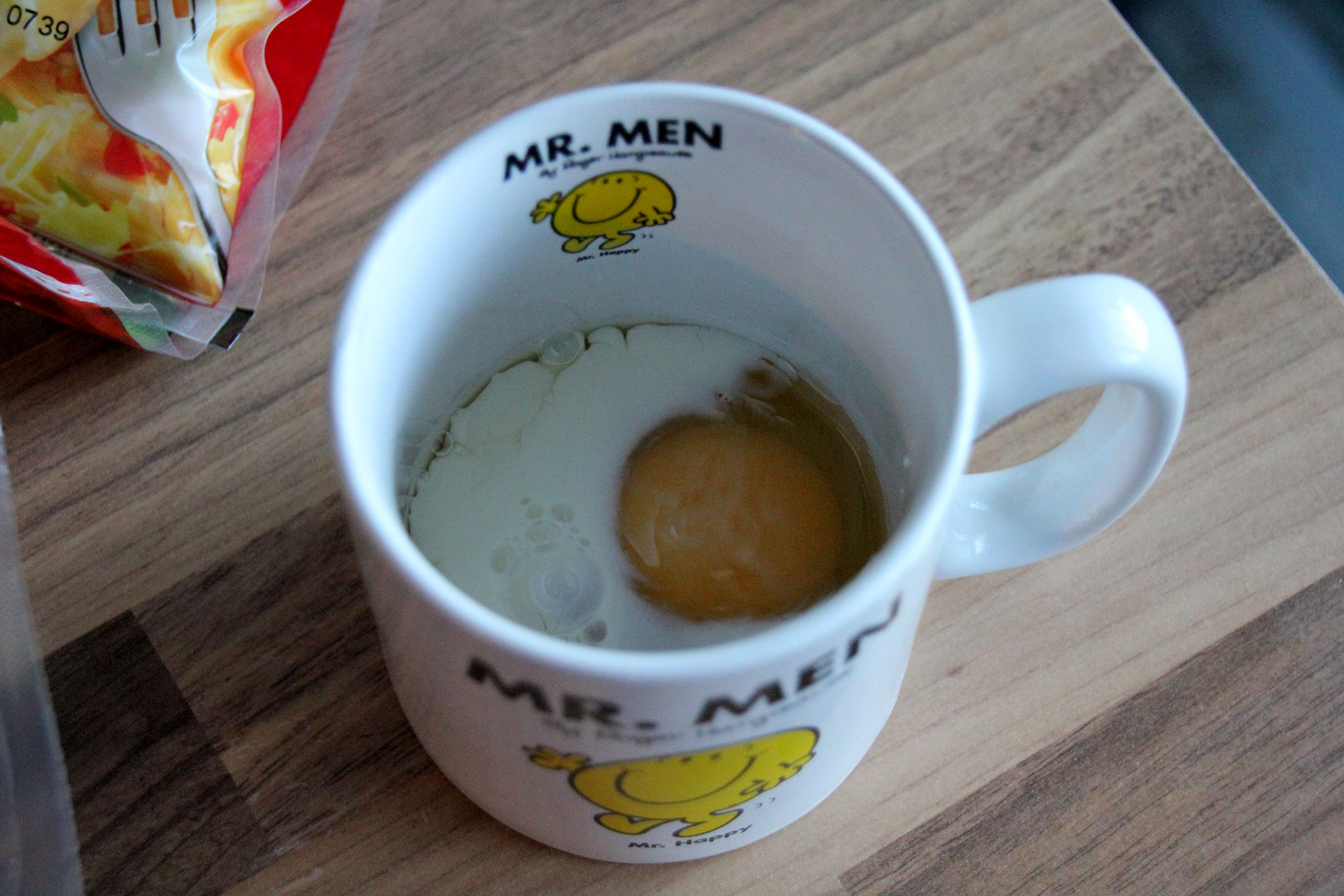 In the mean time throw on your bacon! depending you may or may not need oil or butter.  Also to a pot add a knob of butter and get it melting.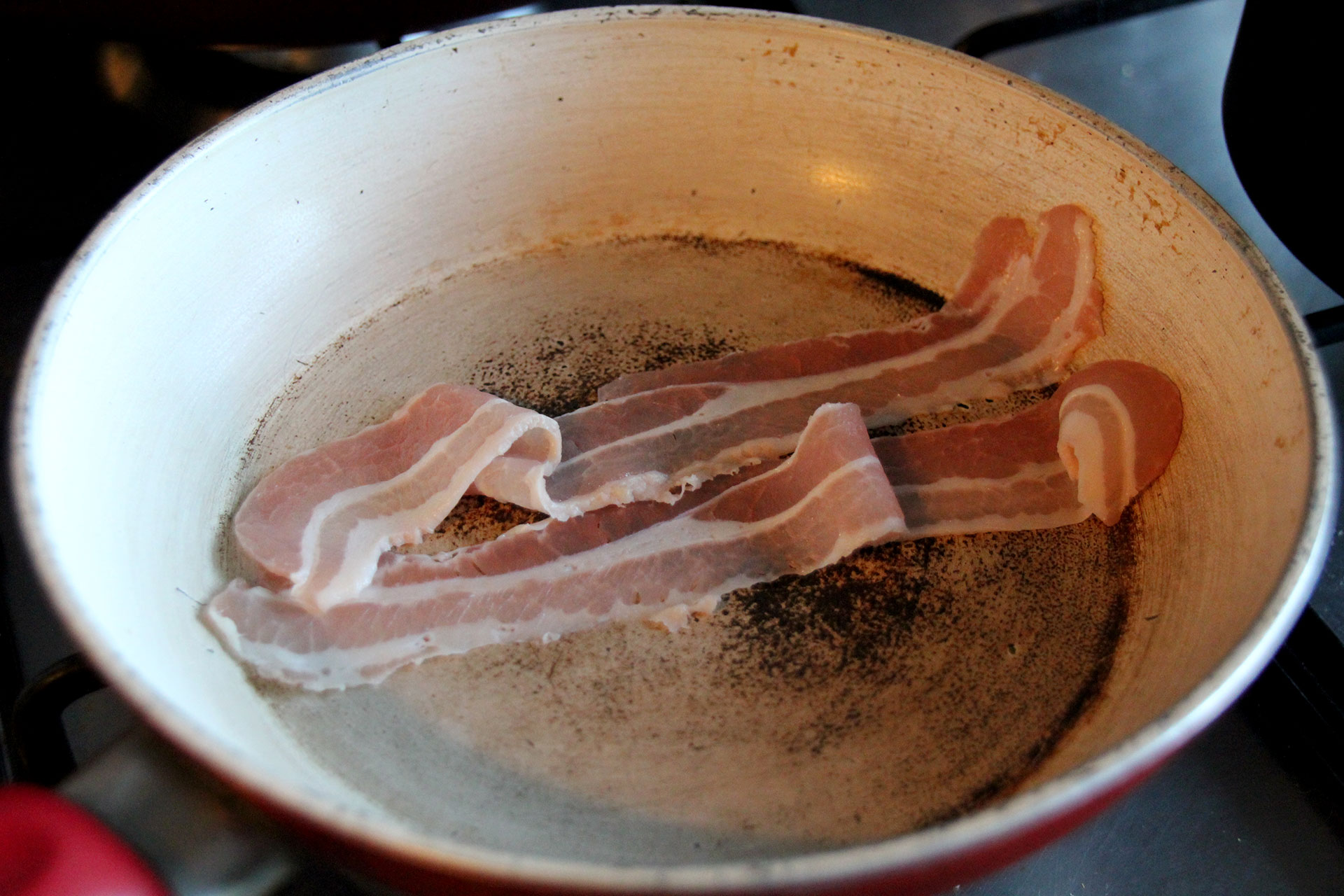 I think one of the big secrets to scrambled eggs ( no not the cooking of scrambled eggs ) is to use a really good non stick pot. If you make this and you've got to spend 5 minutes trying to clean the pot then the chances are you'll not be making it again so often. Throw your beaten egg mix into the heated pot with the knob of butter. I like to pre toast the muffin so slice it in two and throw in a toaster for a minute. Turn your grill on!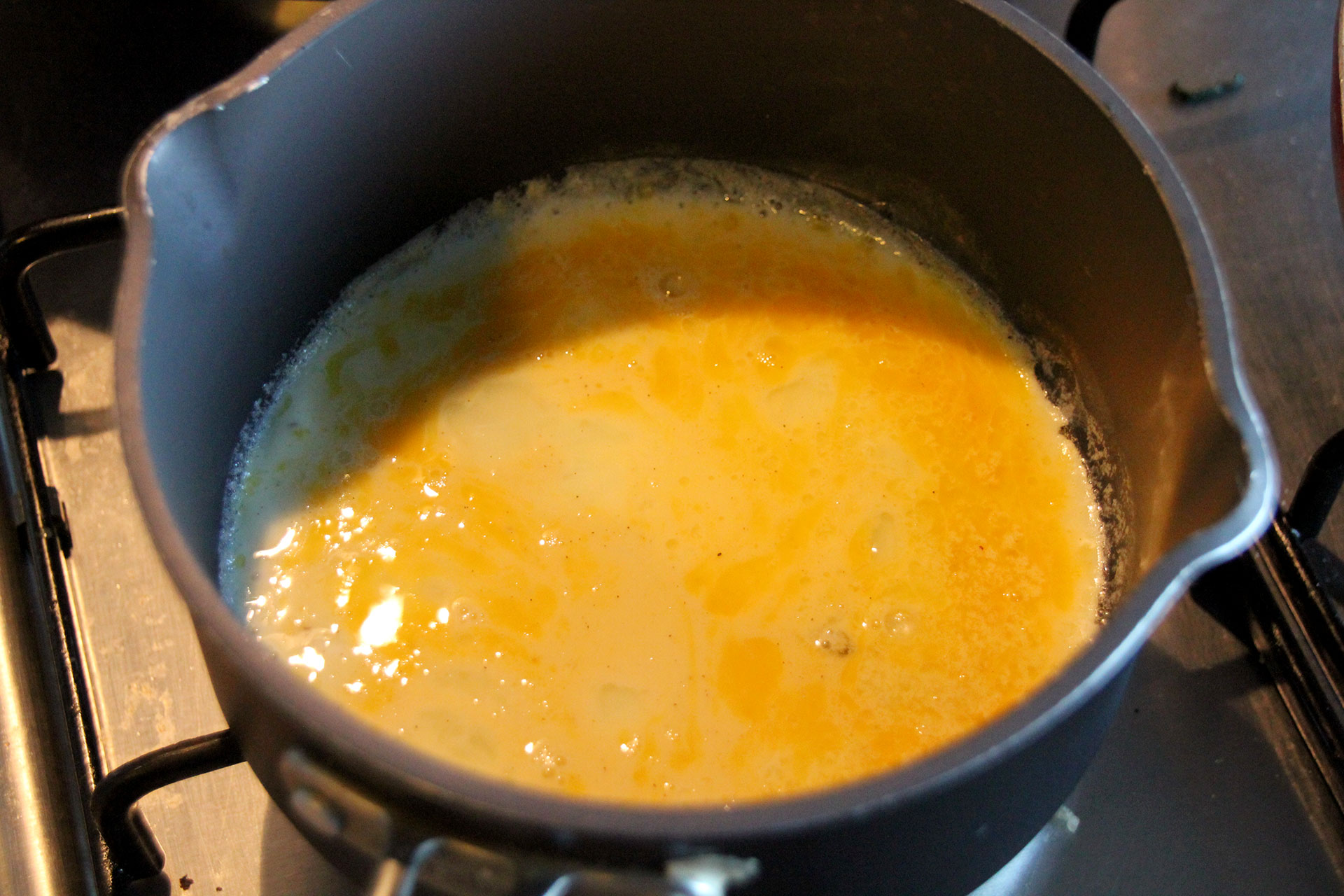 With scrambled eggs you can start stirring right away you can wait a bit and then stir … you can really do whatever you like. I wait a bit and then stir it all together. Butter up your muffin and put it on a baking tray you can put in the oven. You don't want the butter dripping all over the place do you?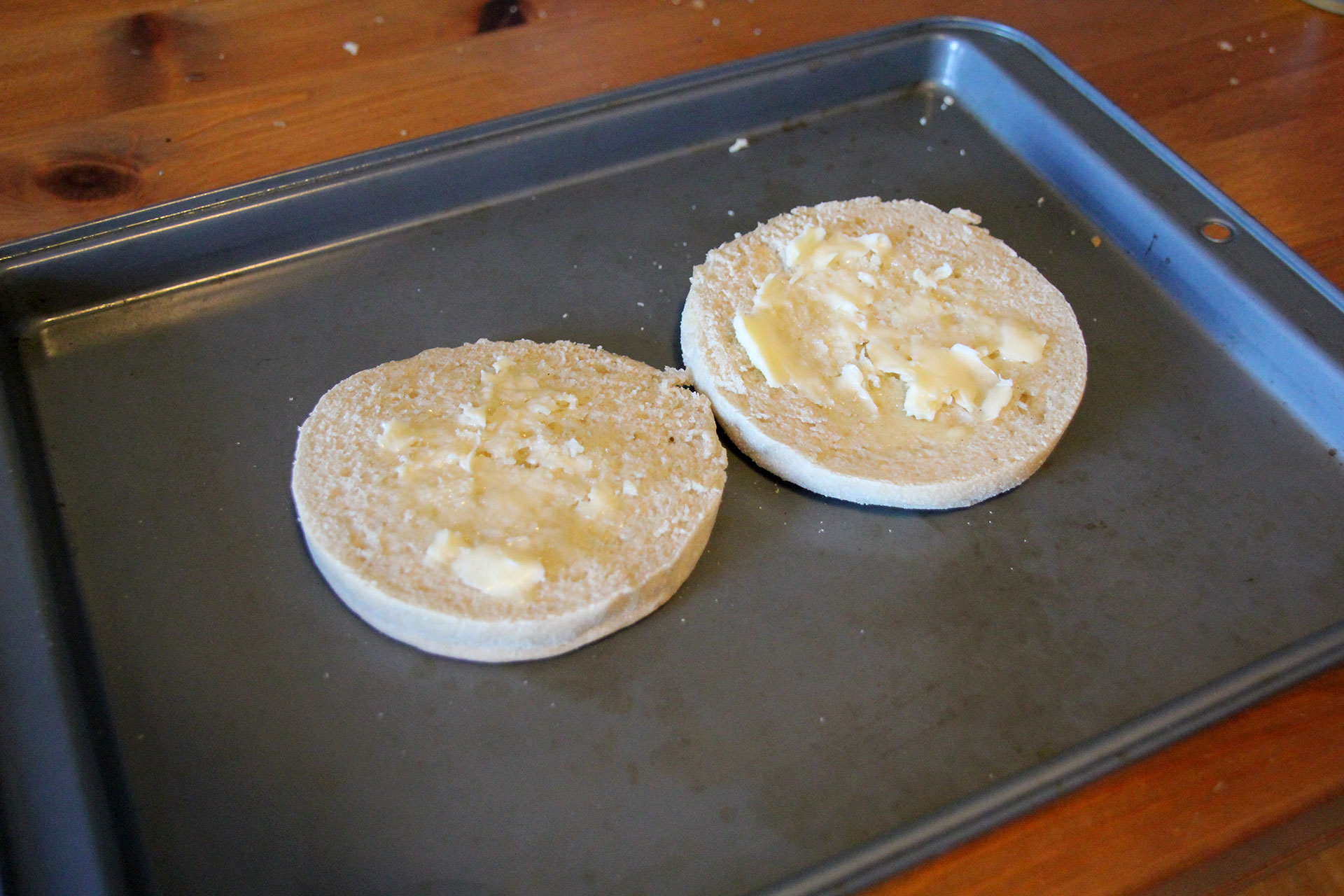 I opted to make two though I could have made a muffin sandwich of sorts. Load them up with the egg, bacon, cheese, and I like to add a sprinkle of black pepper.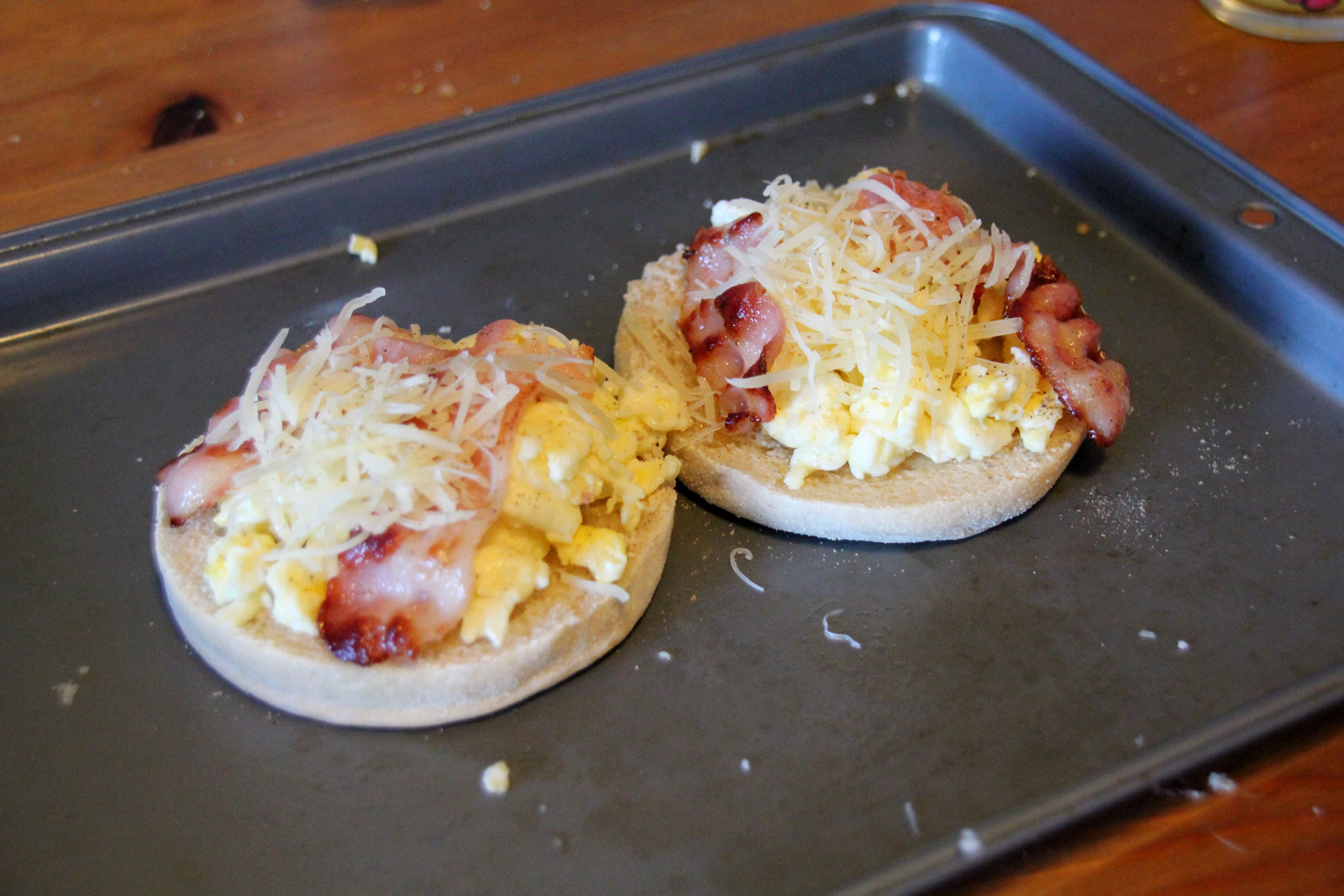 Put them under the grill and set a timer for 1 minute. Then again for another minute. (I constantly talk to my phone for this type of thing, you nearly always have it with you so why not make use of it) Not setting a timer is a sure way to burn things as we all get distracted for that extra minute or two by oooh look something happened on the internet!
It's a perfect time to throw the kettle on for a tea .. or in my case an instant coffee EEK 😮 Quickly wash your pan and your pot as it's now done and not stuck in the sink all day. Note bacon I find tends to wreck pans as the salt is never kind 🙁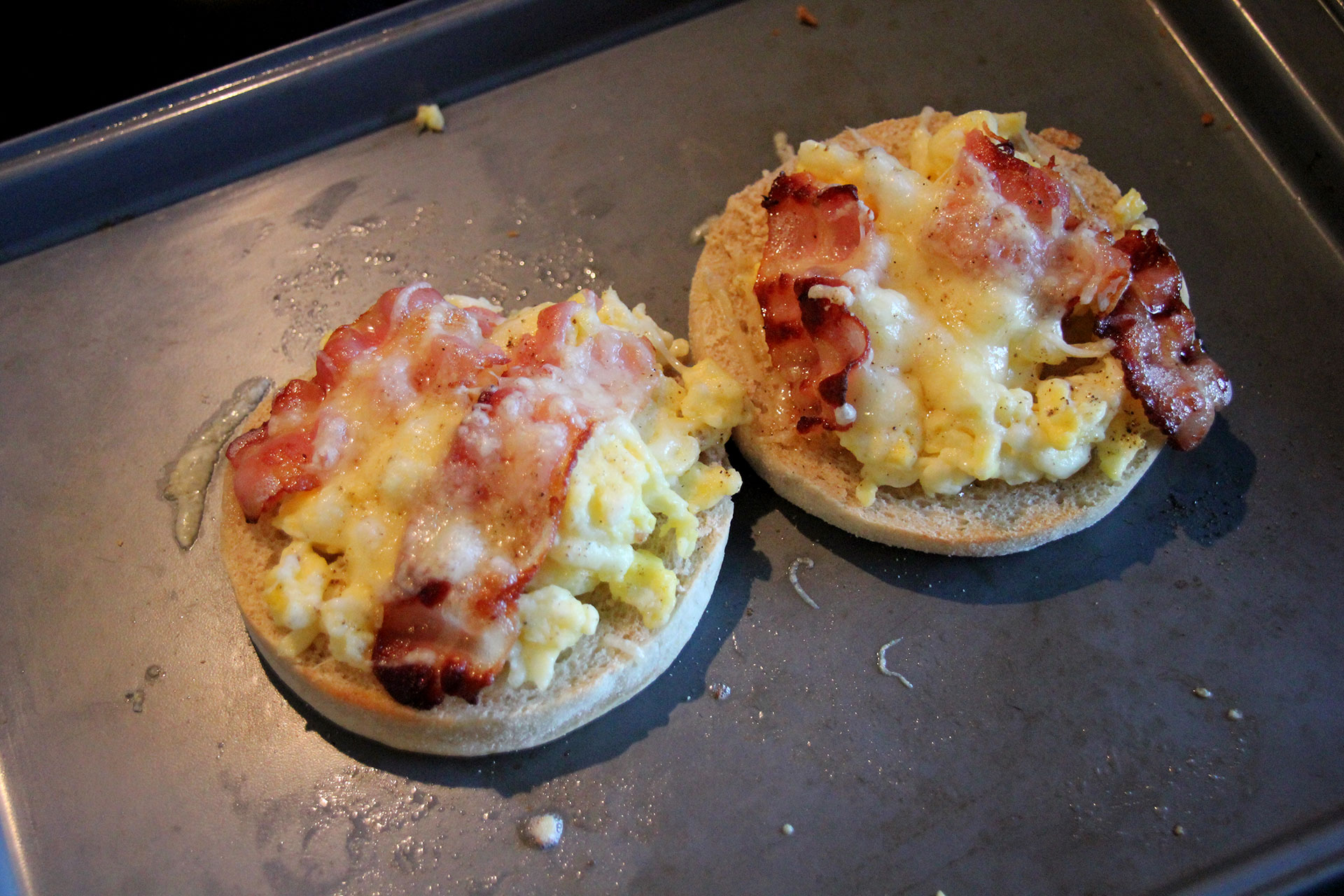 When your your cheese is nicely melted take them out and serve.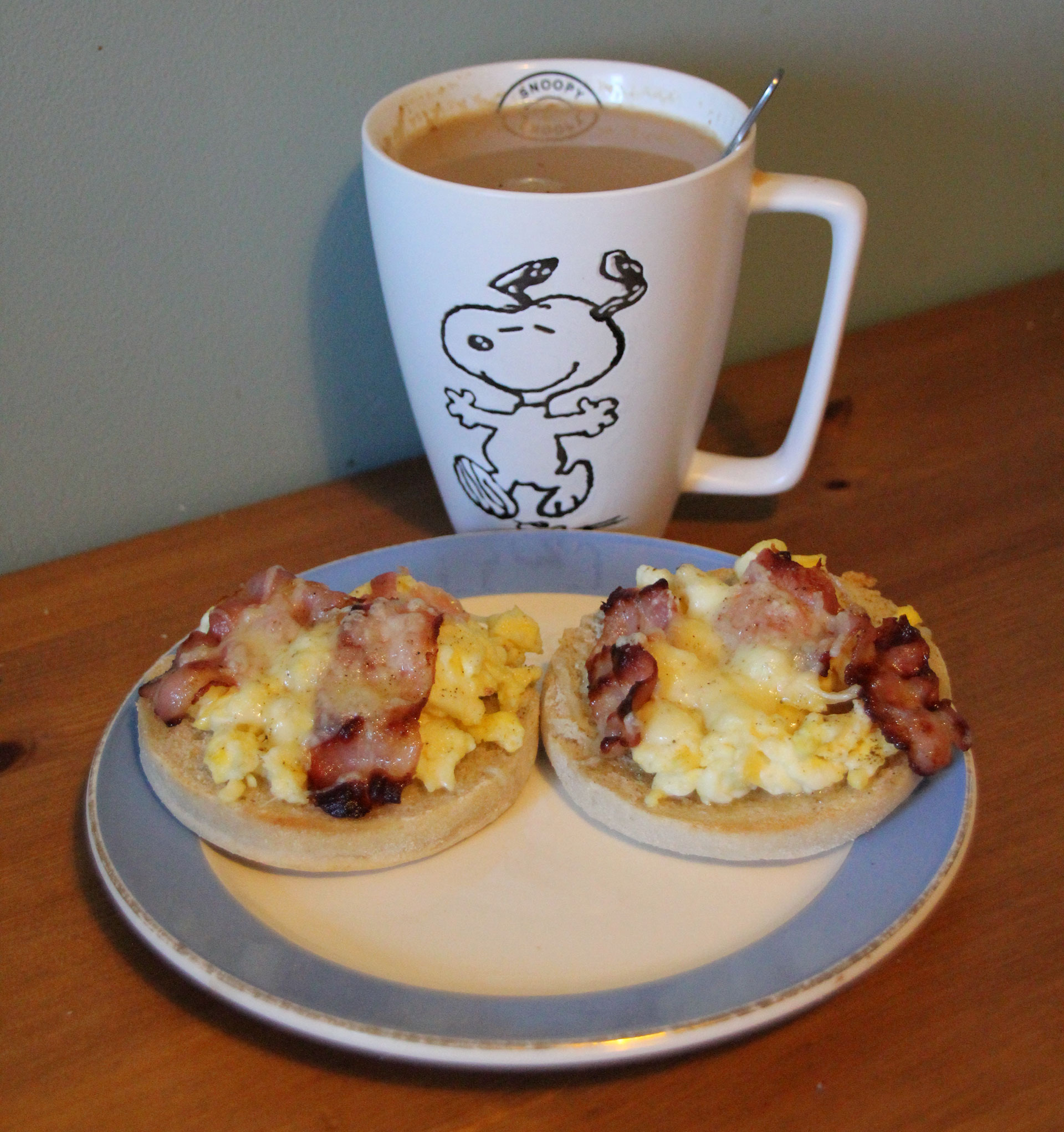 This is also amazing with a bagel, split open a baguette and do similar … hell throw on a sausage or two as well. The whole thing is still going to take less than 10 minutes if you do it right. Also … grill it … don't grill it … with cheese or without .. as a sandwich or not.