Now this one is tasty! That's not to say that the other recipes on this blog aren't it's just to say that … this one? it's tasty!!!
I'm going to skip my usual basic photo steps, I like adding them but I wonder if it's overkill. If you don't speak English I'd guess it's handy to have the visuals. However if you don't speak English would you have found the recipe?
Lets kick it off and get our ingredients together. Having everything together at the start speeds things up (though it takes a minute or two to organise) It'll also mean you don't forget anything.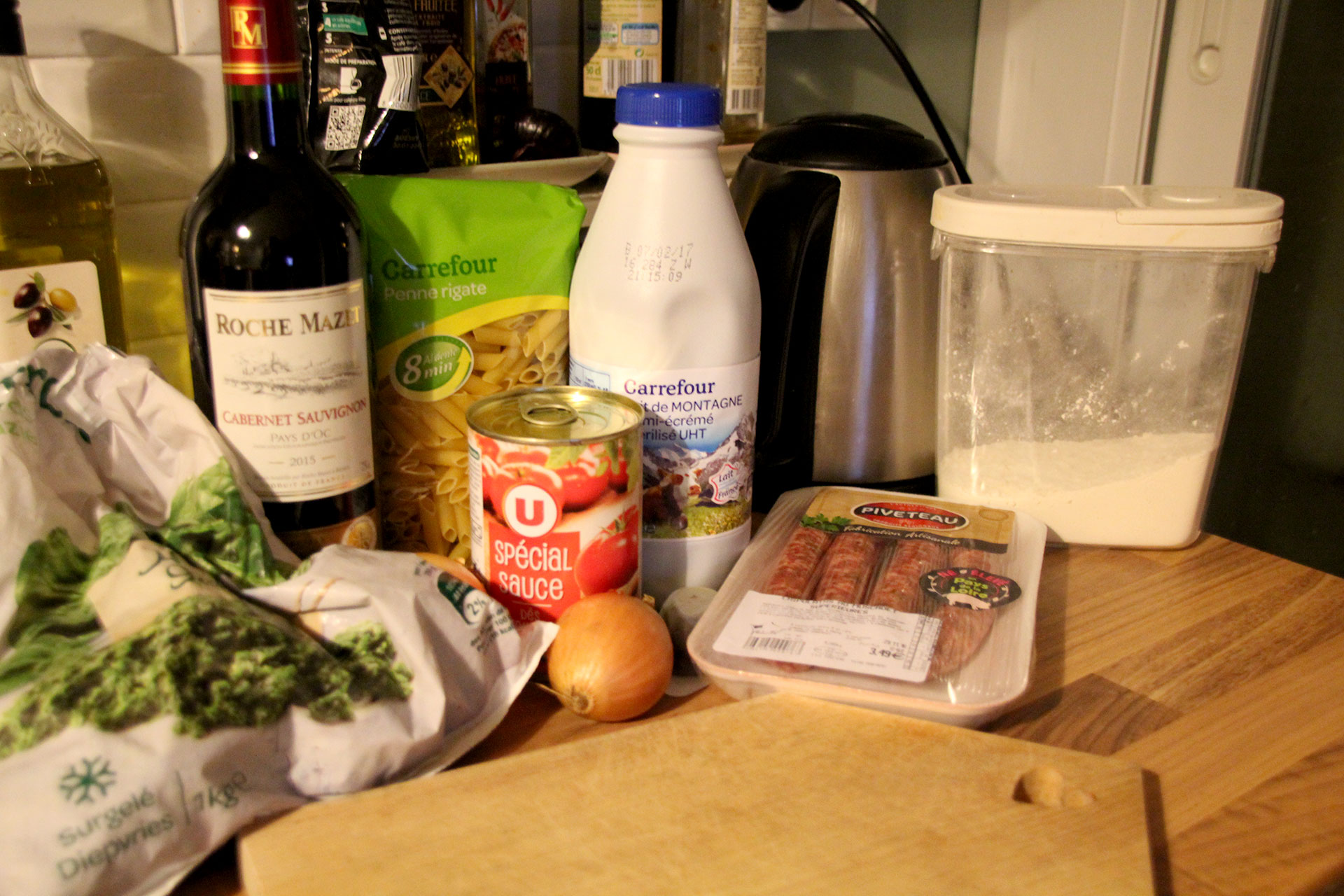 Notice what's missing from the photo? That's right … CARROTS!!! It's like some weird where's wally game with me. Spot the missing ingredient.
No herbs!!! that's right this is a rather simple dish with a lot of flavour and apart from the stock cube that's it.
What you'll want:
Frozen Spinach (I'm using 8 cubes of chopped spinach) This would be amazing with fresh but .. convenience vrs taste and cost. It's also chopped for the kids. Using Fresh you end up with a lot less.
1 tin of chopped tomatoes
1 large onion (finely chopped) (I used a medium and a small here)
1 pack of sausages (working out at roughly 300grammes here) Use something with a nice herb / onion mix / these are with wine
A glass of wine ( and one for the food while you're at it ) I put in around 100ml
1 large carrot (grated)
Pasta (Penne in my case and about 250 to 300 grammes)
For the bechamel topping you'll want milk, butter, and flour
We want to get everything cooking as soon as possible so …
Finely chop your onion and get it frying away for 5 to 10 minutes.
Throw your frozen spinach into a pot and get it melted down. Also try to get rid of any excess water.
PLEASE NOTE: We're only going to mix the spinach with the penne. Don't mix it with the tomato / meat sauce. It ends up giving a very iron taste to the whole dish if you just mix everything (we learn from our mistakes)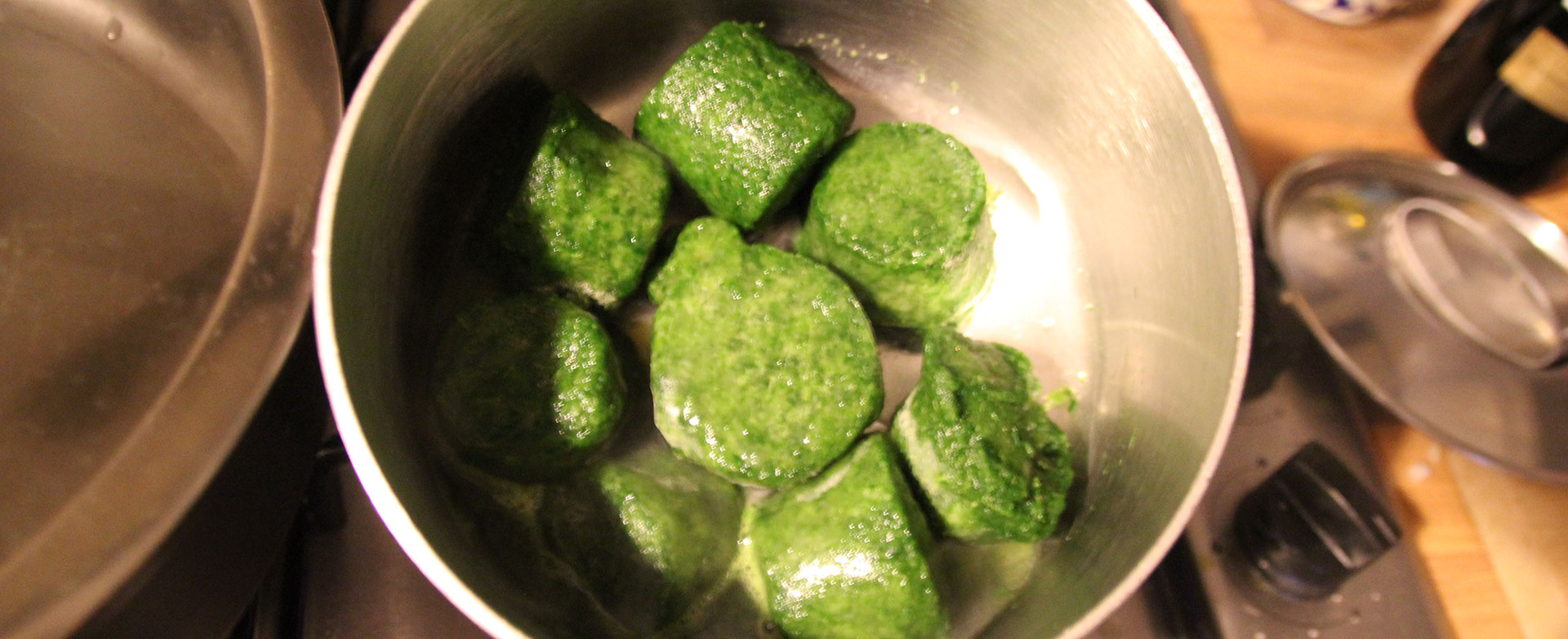 In the mean time with your onion cooking away and your spinach cooking / defrosting lets prepare your sausage meat. If you buy some sausage meat you'll be able to just chop it up into small bite size pieces. If you have a pack of sausages that you'll use you'll want to lengthwise slice into them. Pull the skin off and chop them all up. Add them to your onion mix and brown.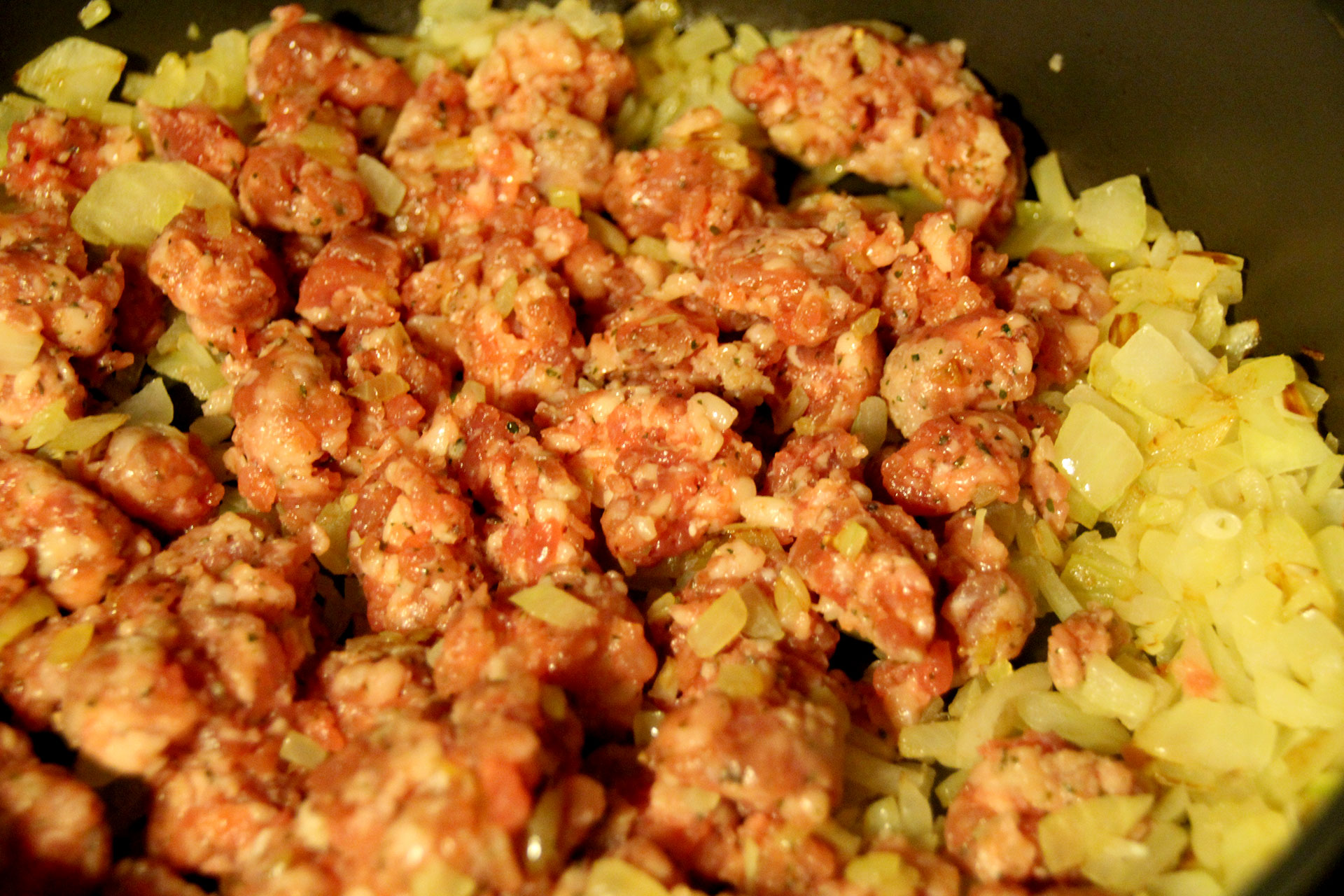 Throw on your pasta at this point. You pretty much want to cook it / have it al dente. Grate up a carrot or two. Add it to your onion and sausage mix. Throw in 100ml of red wine. It really goes nicely but you don't have to add it (especially given the cost of a bottle in Ireland) Add a stock cube, throw in your tin of tomatoes. Depending on how much liquid there is at this stage you might want to add in 200ml of water give or take.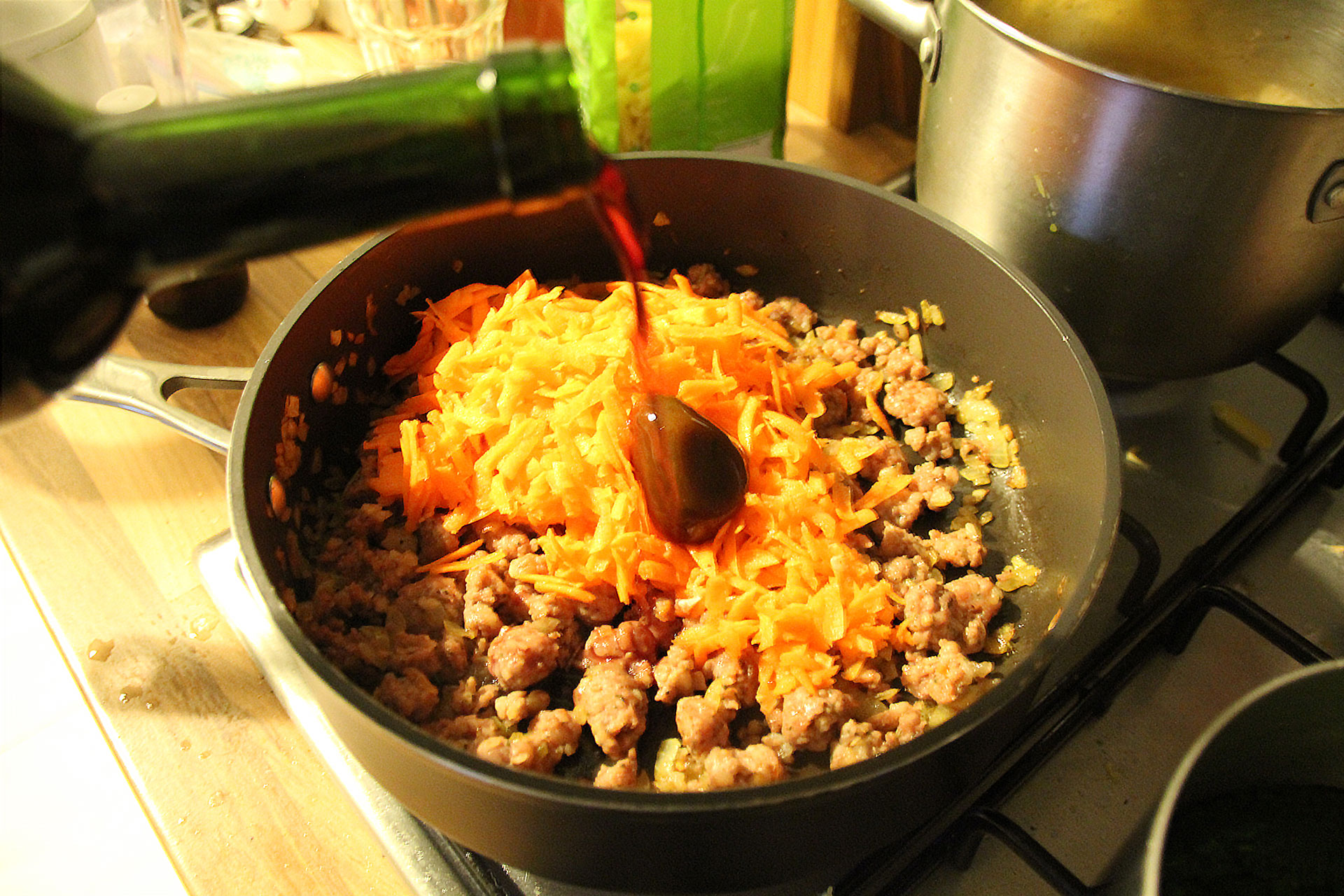 Cook it for a few minutes reducing the level of liquid. Throw on your oven to 185C ( cus the extra 5C will make all the difference)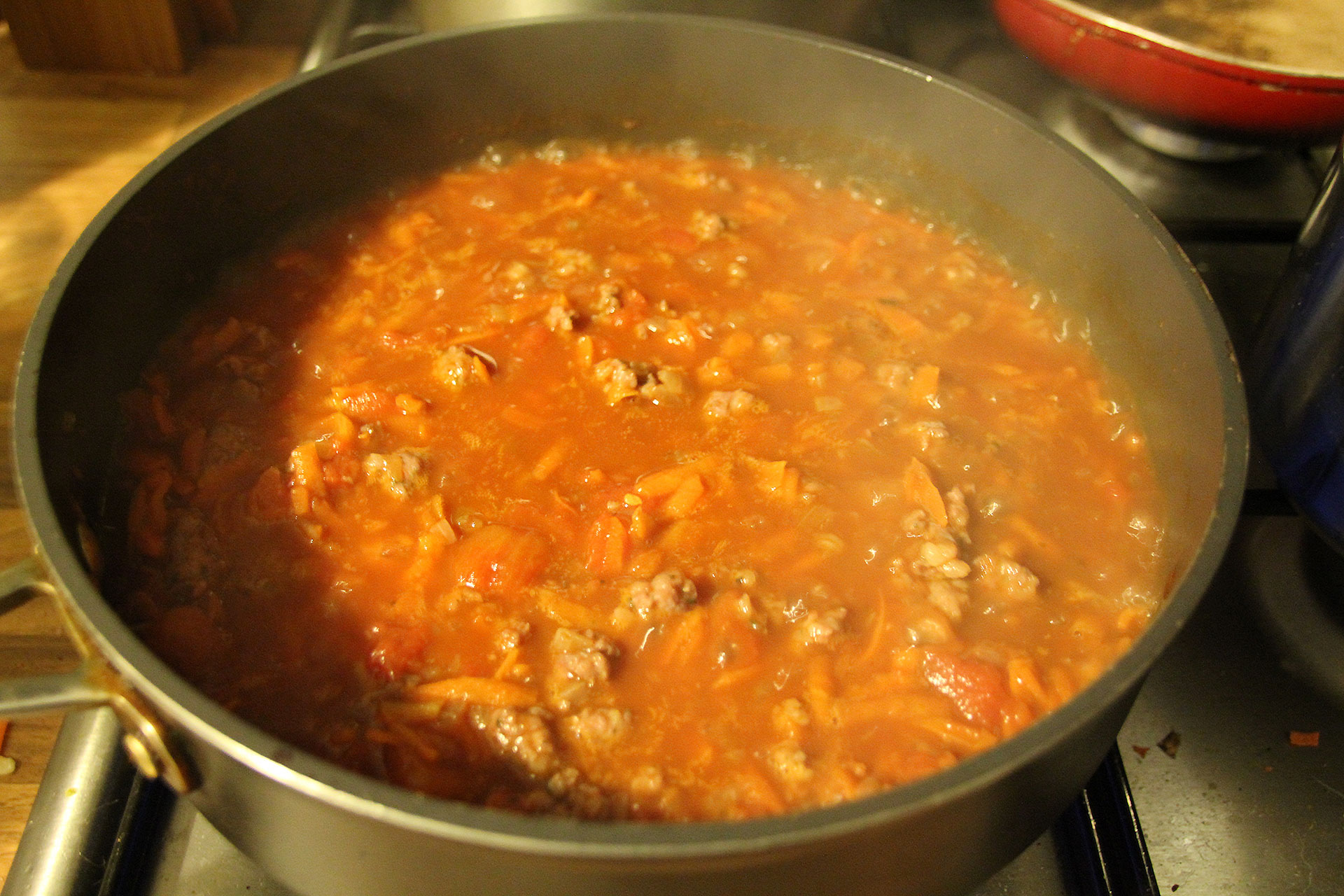 Make your bechamel sauce. God I hate it when recipes tell me to just do something that sounds complicated.
Take 300ml of milk (or 400 depends on the quantities you're using it) put it and 50 grammes of butter into a pot and get it close to boiling. Add and whisk at the same time some flour. How much you'll need … is really up to you … splash in a bit … whisk .. splash in another bit … keep going until your white sauce has thickened up. The first times I made bechamel I was obsessed with measuring out the ingredients exactly. It gets easier though and you get to the stage where you throw in your milk with a knob of butter and just start adding some flour. Add too much flour … add a little bit more milk.
Drain your pasta and spinach of any excess liquid and mix them together.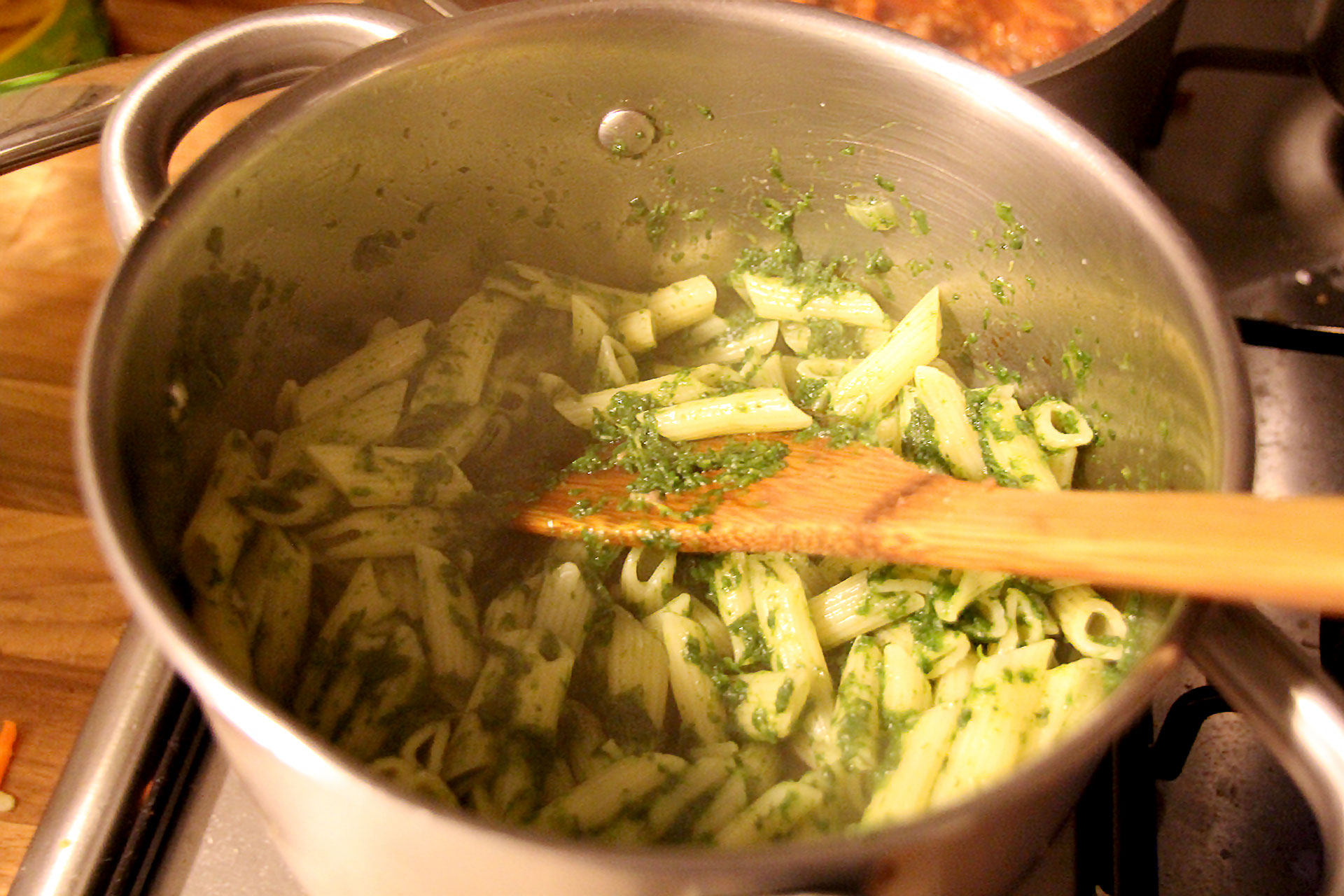 Layer half of the mix into a baking tray. Layer your meat sauce on top.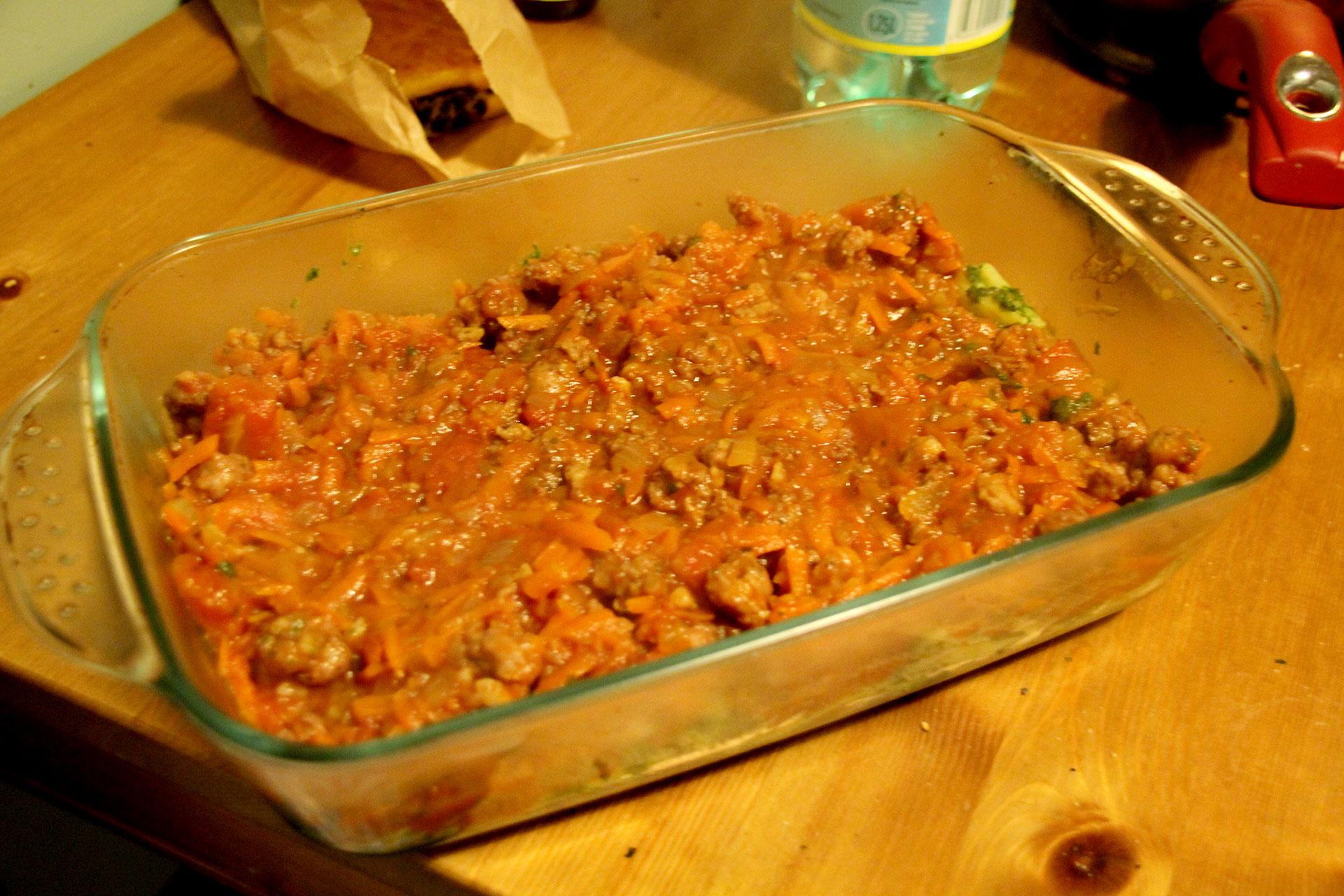 Another layer of pasta and spread your bechamel evenly over the top. Add a layer of grated cheese. Grate some fresh pepper if you'd like.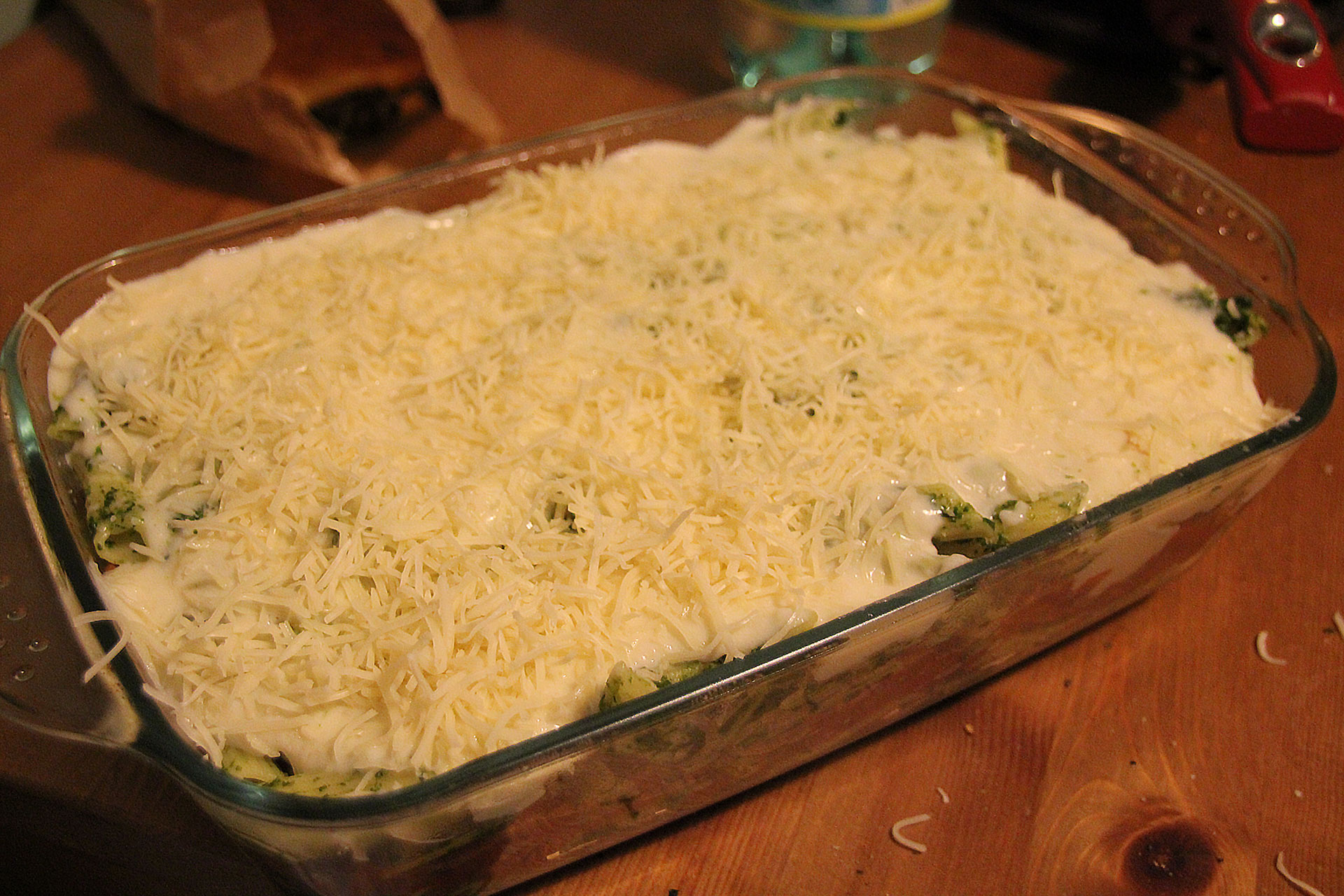 Throw it into the oven for around 20 minutes. I added 4 minutes of grill time to crisp up the cheese as well.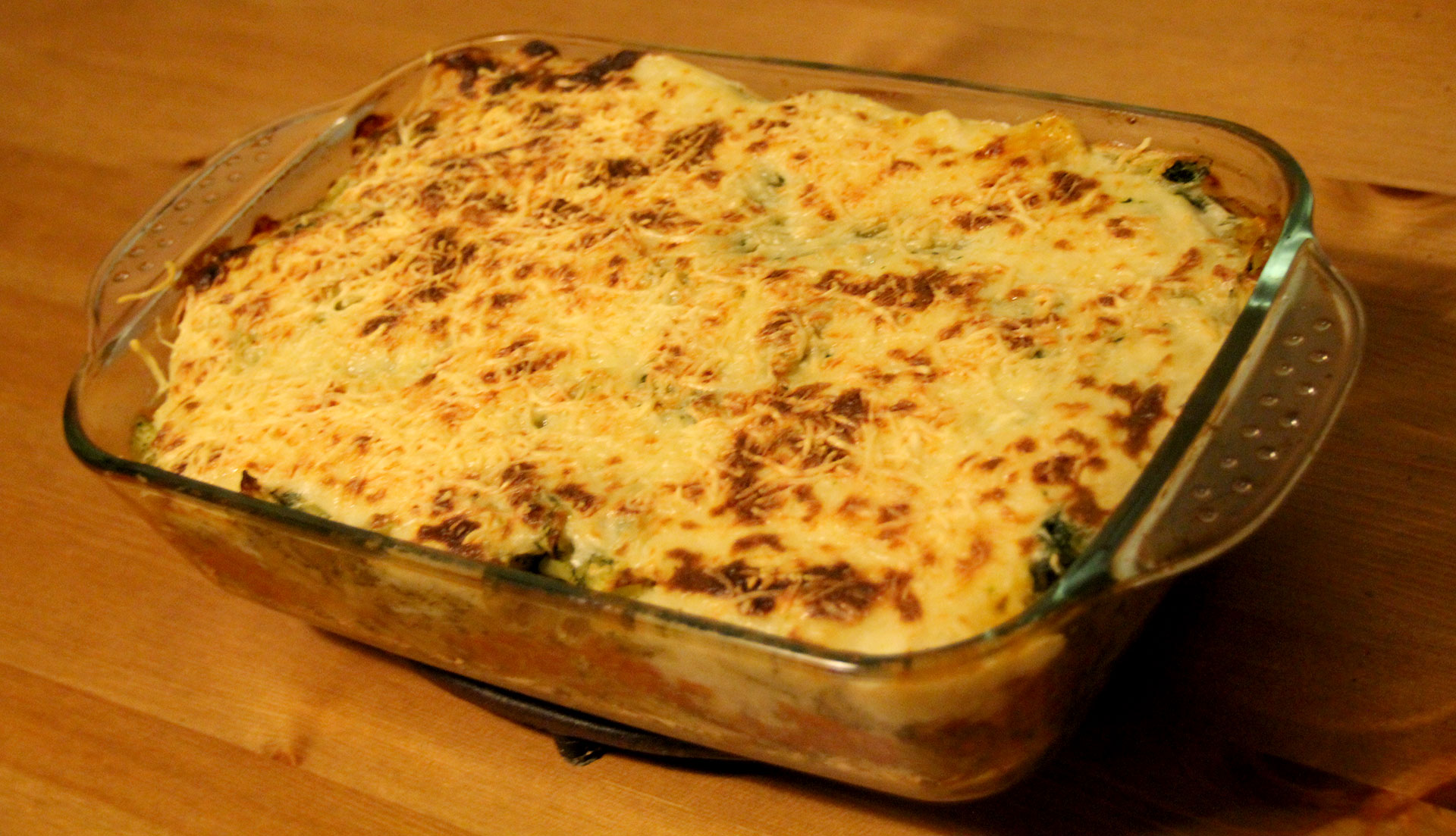 Serve up and try to take a nice instagram worthy photo 😛