Did you make a nice Sunday lunch today? hopefully you did? Did you end up with some left over stock? any spuds, carrots or other veg? There wasn't much left over for us however there were a few spuds. I didn't get to the market today so there actually isn't a hell of a lot of veg in the fridge. A few carrots … and a turnip that's been sitting in the back for too long so it needs to be used.
Ok so what can we do with all this? Make a quick enough soup of course! Cooking time is going to be about 20 minutes. Prep time 5 – 10 minutes as we're using a lot of root veg that need a bit of time to cook.
This reminds me of the old stone soup story. The stranger visits the village and he's hungry but has no food. No one will share so he says he'll make a soup with just water and a stone and it'll be amazing. The people think he's crazy. He mentions oh he just needs this one extra ingredient and someone gives it to him. He mentions another and so on it goes. In the end it's an amazing soup that everyone in the village enjoy. Soup is great in that you can pretty much add anything you want to it. I could have added in some frozen leeks … some parsnip ..  or pretty much any veg. Some will work out better than others. You can always make so many variations of soup, add some chilli to give it a kick. In this case it's mostly a basic veg soup until I figure out what's left over.
Oh sorry for the quality on the photos on this one. My extractor lights have both gone so the lighting is a bit soft especially over the cooker at the moment.
Here I've taken a few veg that I've left over. I've only 3 small potatoes a few carrots … a turnip. I'm also adding a stock cube. You could add some stock if you've got some left over as well from lunch. Leave it out if you want … though you'll want to add a pinch of salt.
Roughly chop up your onion.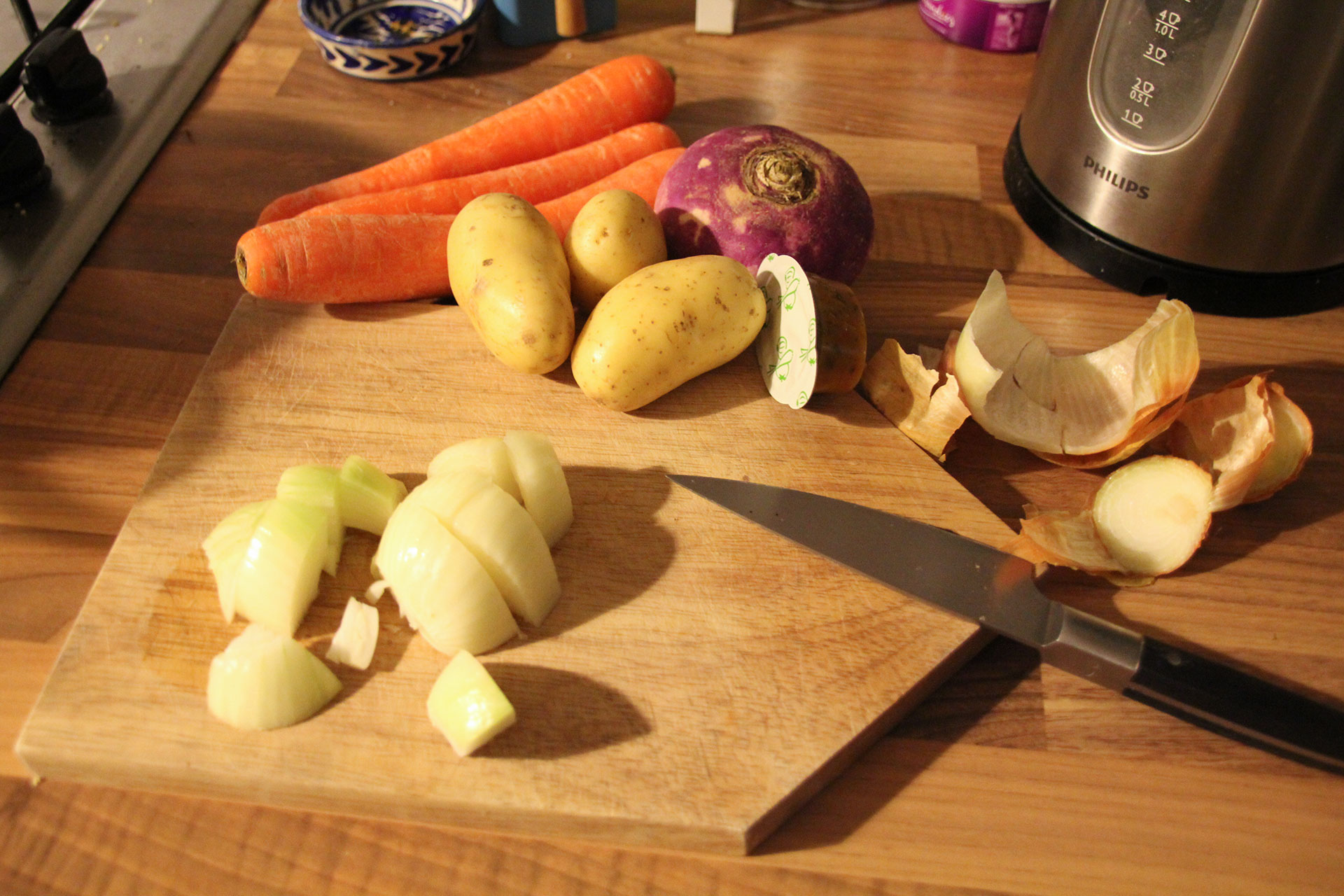 Get it frying away, I'm using the pot from the leftover spuds from lunch. A medium sized pot as we'll be making everything in this. Anything starts to stick throw in a drop of water.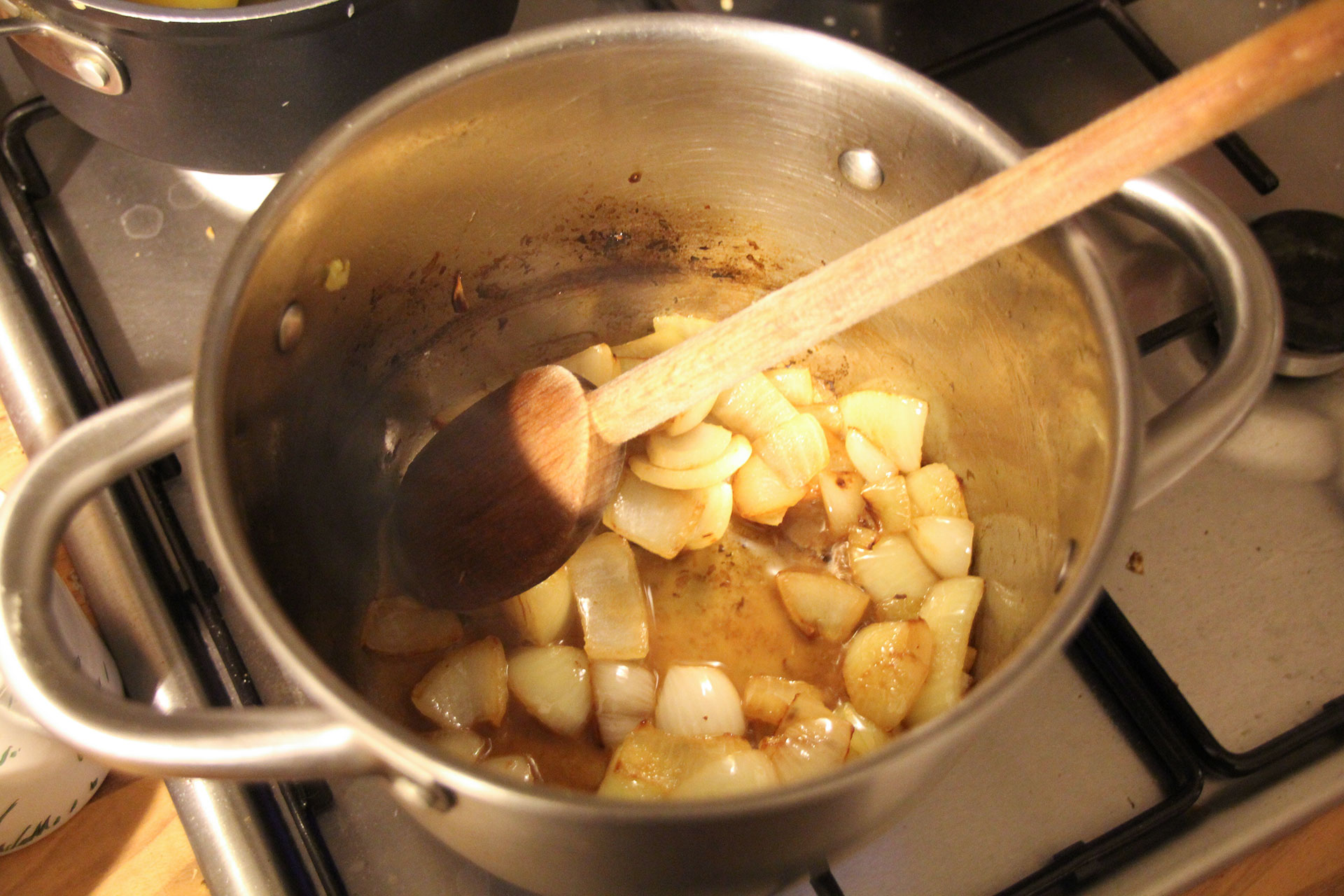 Roughly chop up your veg. Small enough but it doesn't have to be tiny. The larger it is the longer it'll take to cook, however we still want to get some flavour into the soup.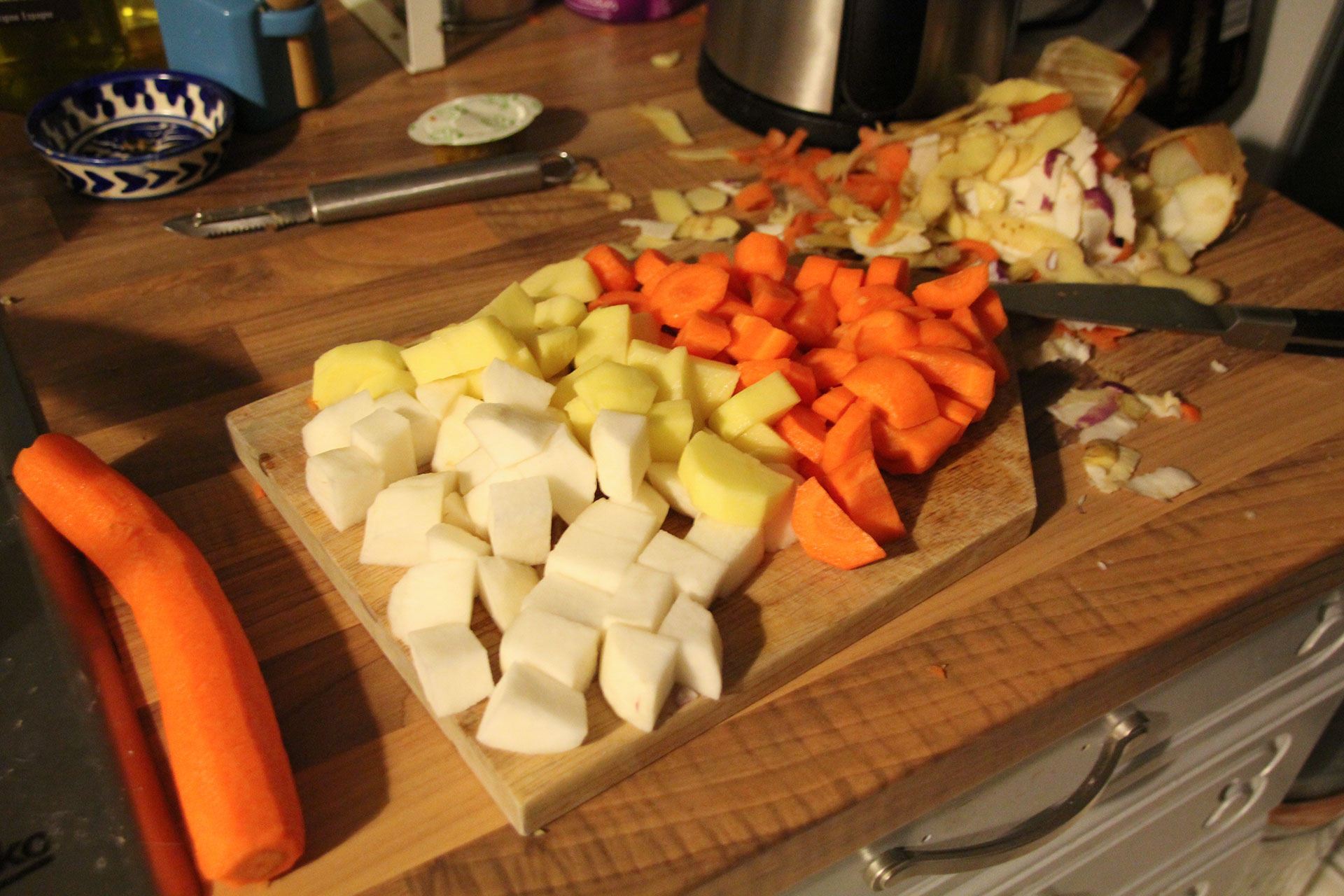 Throw everything into the pot. Throw in a stock cube. Throw in a bay leaf. Throw in a teaspoon of chopped thyme (I'm using dried here). A twist or two of fresh black pepper. Around 1 litre of water. Add less as you can always add more later. Stir everything around and cook for 15 – 20 minutes with the lid on.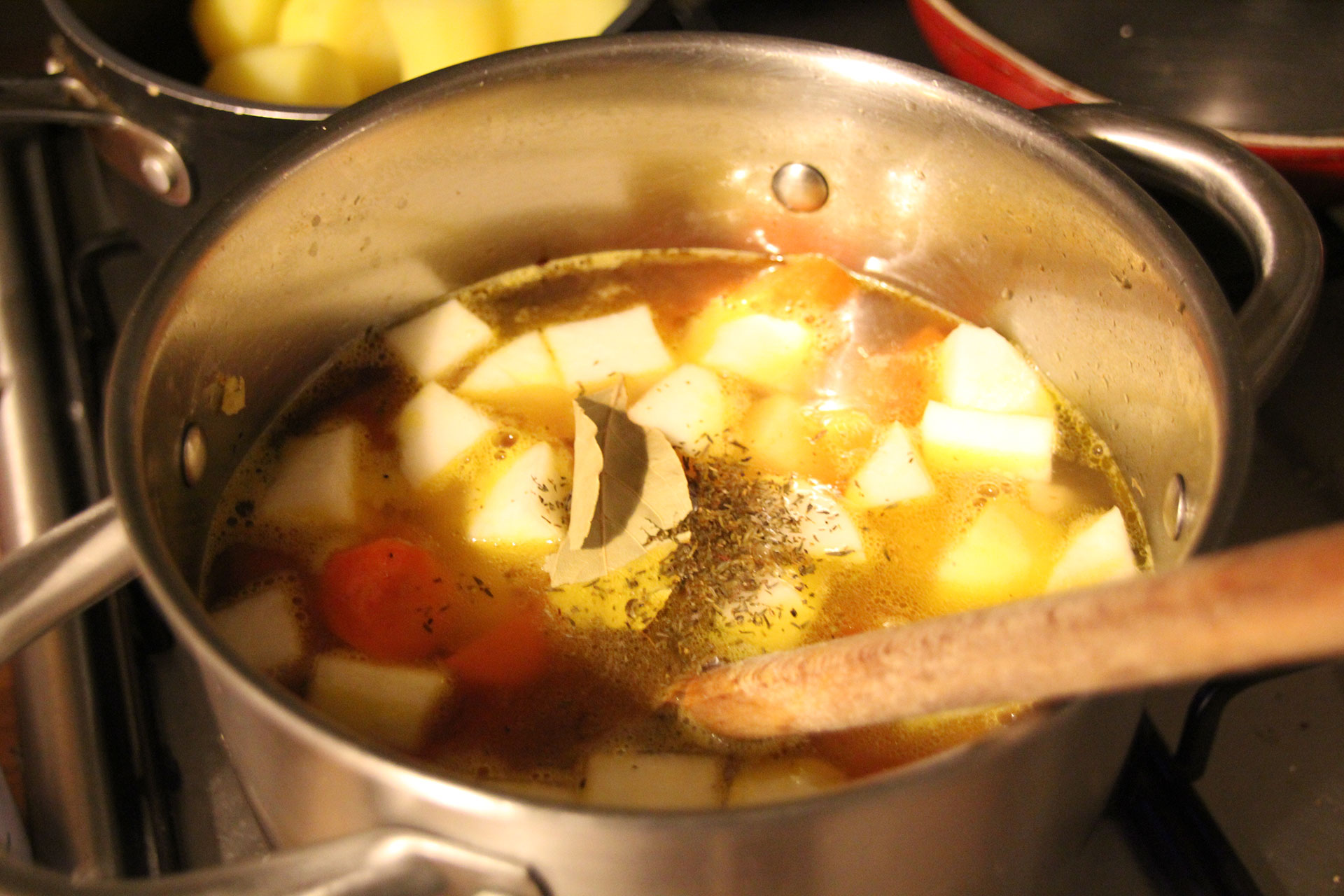 Up to now this is a vegetarian soup, want to keep it that way? Don't add meat / chicken (Well duh! you say … well I just thought I'd mention it) Skip the next step or two cook and get to the blending part.
Now what else is left over from lunch? I made a Guinness Stew the other day did you freeze some? Got some left over meat to use? This won't take much but will transform everything. Have some chicken? Filet Mignon? Lamb?
Taking just 2 small pieces of meat adds so much to the flavour.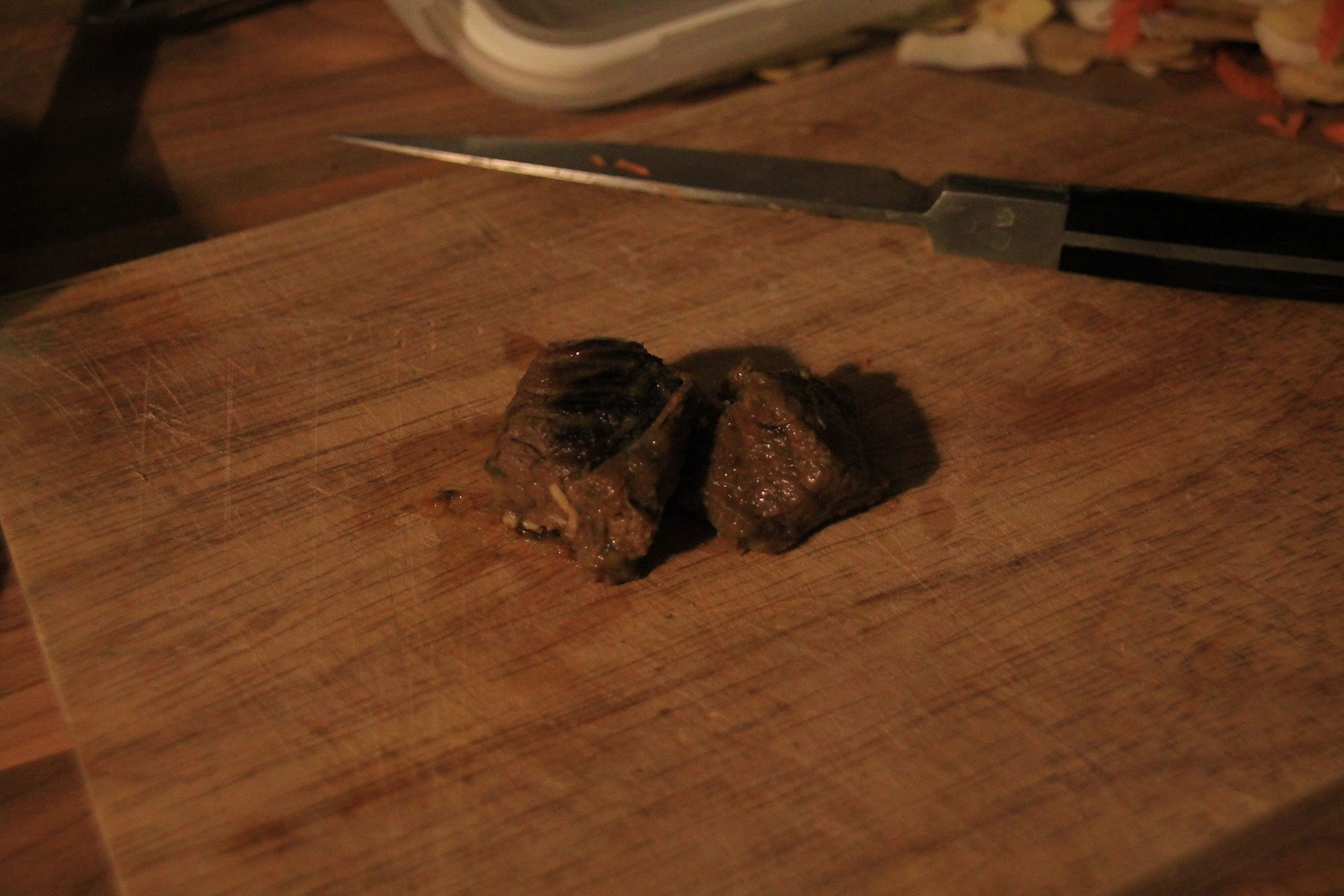 Chop them up into fine bits.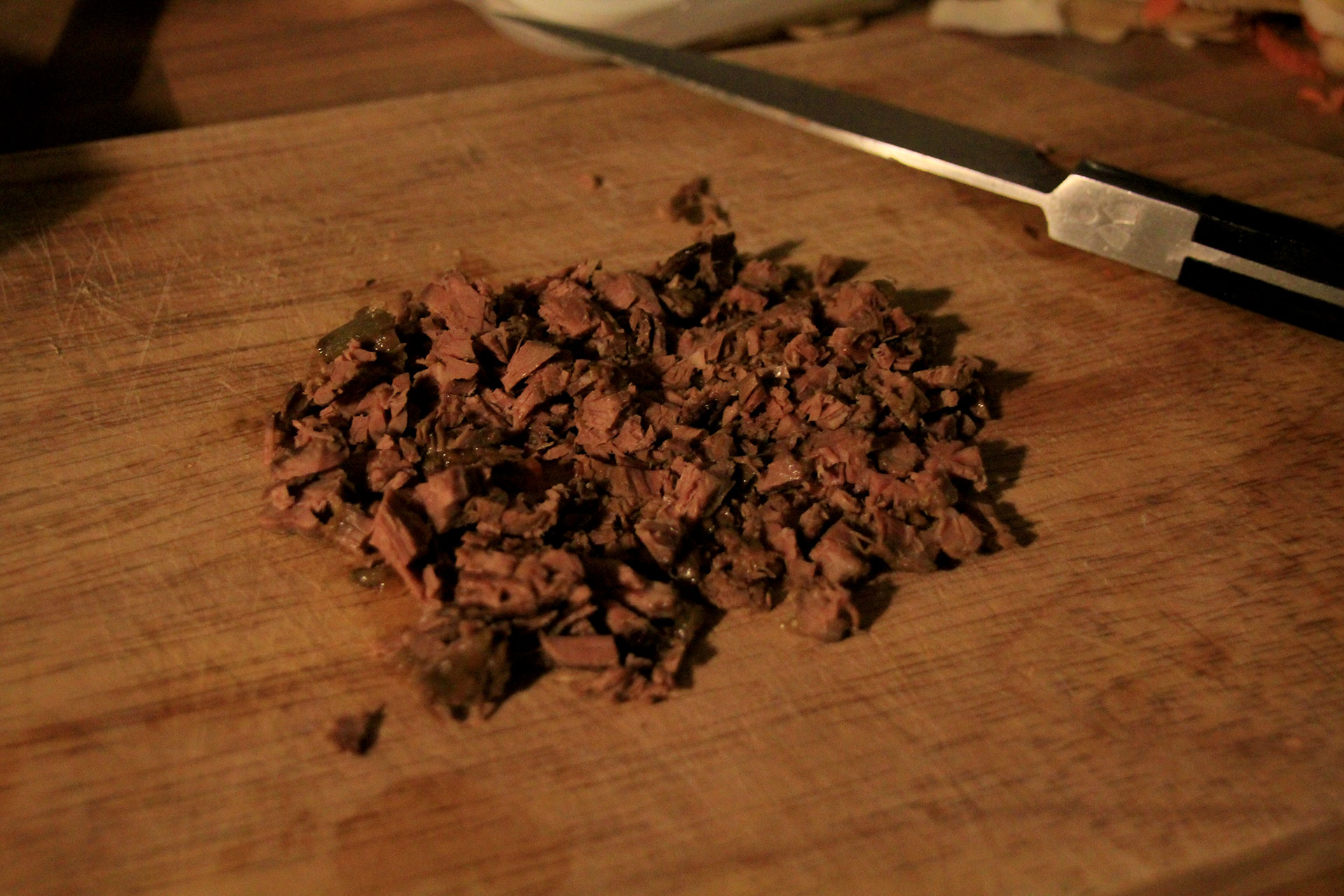 Put half into your soup and keep the other half.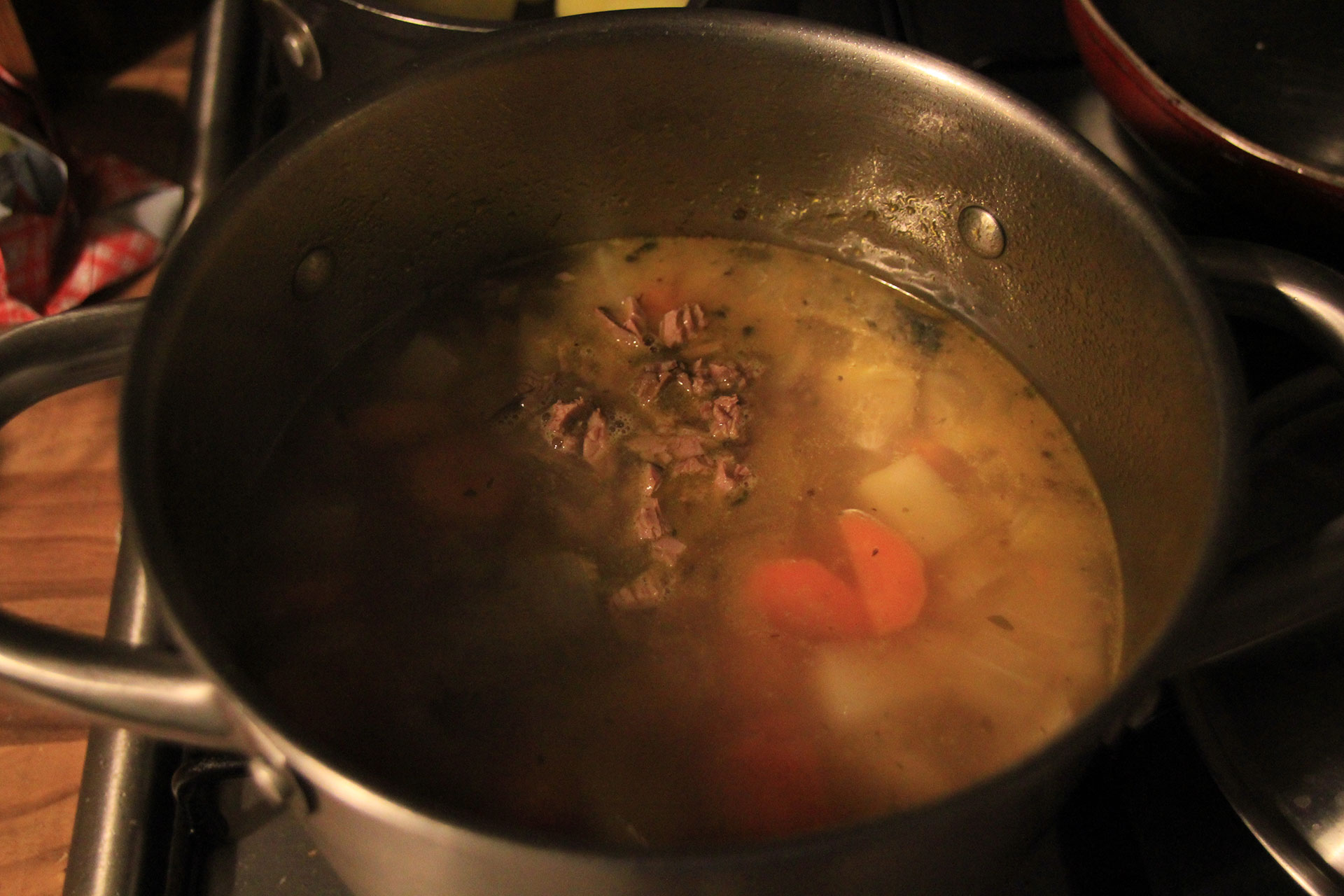 Lid back on and cook until your carrots and turnip can get stabbed easily with a knife / fork (as in it goes through easily)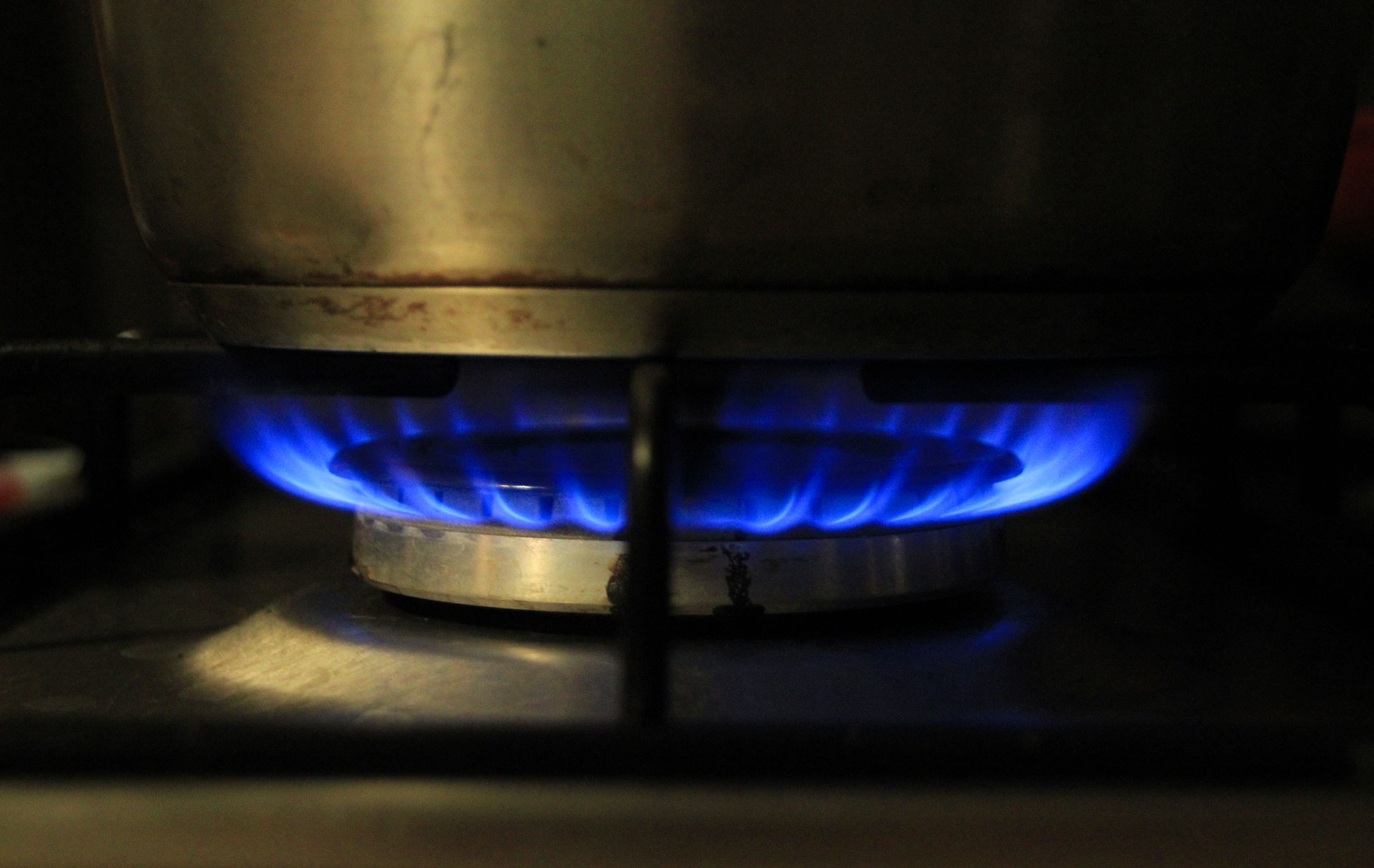 When it's cooked take out the bay leaf.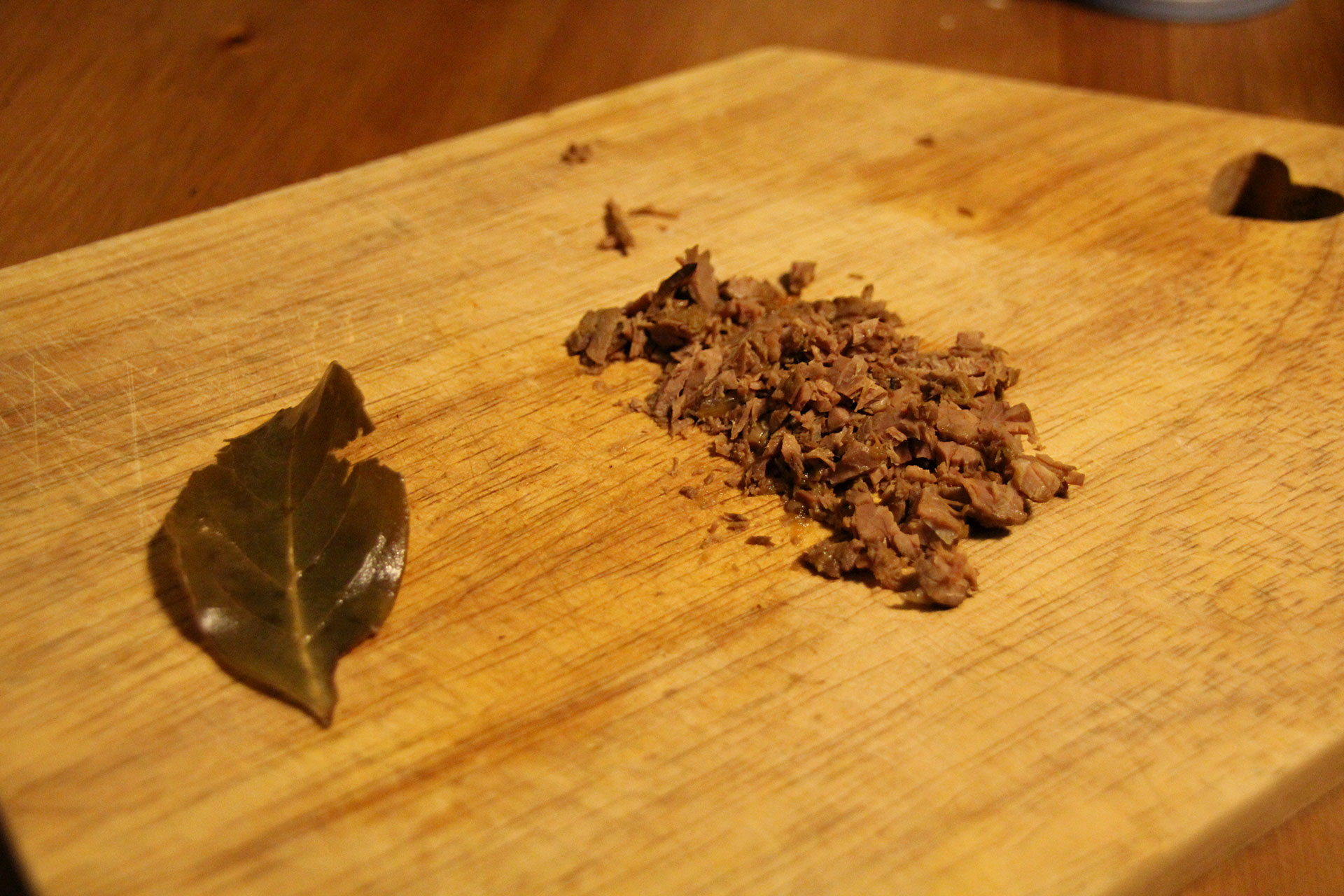 Get your hand blender and blend. For the kids and even myself I like to blend this up rather well so there are no chunks in it. I've also throwing in the cooked leftover spuds from lunch now.
Serve!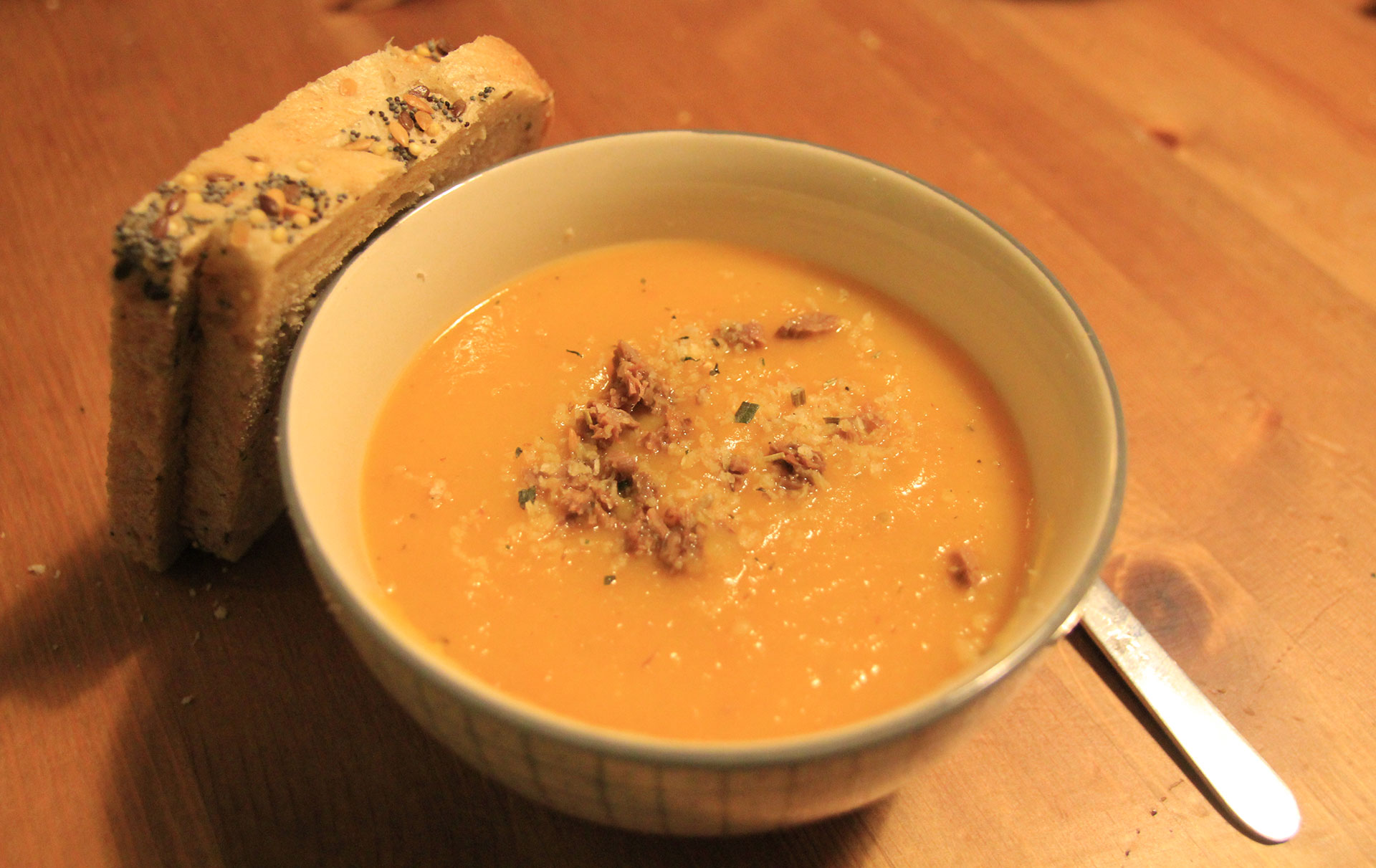 I'm sprinkling on some of the meat. (You'll want to reheat this … you could also just add the bits to the soup directly in the pot to heat up)
Yesterday I made a garlic / herb breadcrumb mix (Sausagebol Pasta). I'm going to put some of this on top as well (I've it in the freezer as it'll keep a while in there). It gives an amazing kick.
The kids loved it, everyone had seconds or thirds in some cases.
Dessert was some more toasted bread with some blue cheese on it which went down amazingly well.